"Choosing the right duty hostler is a big deal because it is something that your life depends on"
A holster can literally help you save your life or get you killed. So, if you ever consider buying a hostler as a simple task, you are taking a big risk. A holster is one of the most imperative entities of safety equipment that you require in the field. The overwhelming variety of hostlers accessible on the market today is confusing.
Spotting the difference among high quality gears and junk articles is not that difficult. Once taken to the field, the true colors of a holster can be categorized. But, then you would have already spent your money on the gear, whether or not it proves worthy of it. Therefore, you need to consider thoroughly before you finally pick one and take it to the field with you after all, your and other's lives depend on it.
What Makes a Holster Ideal?
Just as firearm, flashlights, cruiser or handcuffs your duty holster is important too. It is not only something that helps you carry your weapon. In fact, a holster assists you to take the right action in a right way. The two most important requirements for a holster are:
A holster should keep the weapon secure, when the pistol is not needed.
A holster should be comfortable enough for the wearer to reach his or her weapon easily and swiftly, whenever the pistol is needed.
Apart from these very basic requirements, you need to consider the position where your holster is going to be and the way it will be strapped to your gear. The manufactures at the Brave Response Holster have reinvented the wheels to introduce something that you may not have found in a single holster at the same time, i.e. comfort ability, conceal ability, safety, durability, and versatility.
What Is so Special About?
Brave Response Holster?
A lot of people find it difficult to carry a standard holster in the waistband that feels bulky, uncomfortable and is quite hard to carry. These problems literally turn off many officers. And that is what makes Brave Response Holster unique because it is not your usual leather and Kydex holster. Rather, it is specifically designed after keeping conceal-ability and comfort in mind.
The most important quality of a Brave Response Holster is that you don't have to hook or clip it to your boot or belt. Just like a belt, the built in waistband of the brave response holster goes around your torso and give you absolute concealability with zero discomforts.
The other factors that make this holster special are:
The Brave Response holster is built to protect your life.
As a waistband hostler, you can keep it as shallow or as deep of concealment as your pant allow or just as you wish.
It simulates the sensation and allows you to respond quickly to any imminent threat.
Takes lesser time to put on, conceals better, allows grip mounted lasers and can fit any waist up to 54 inches.
What Do Our Customers Have to Say About Brave Response Holster?
What makes a product extraordinary? Brilliant Reviews and satisfied customers!
Satisfying our clients is our first priority, as the manufacturer of the Brave Response Concealed holster. Let's hear it from some of our customers how did they found the product.
Best in All the Gun concealed Carry !
The main thing I wanted in a holster for my CCW revolver was concealment and this holster is one of my best purchases. I have used four other holster in the past but found this one just according to my requirements. I like to take long walks so I wanted a holster that is comfortable enough to carry while walking. And this one totally fits my criteria. It remains strapped to my skin and concealed under my shirt. That is a real plus for me! This is my go-to holster from now onwards
Best Concealed Carry For Gun.
Without a question, this the perfect holster to carry at work. As I am someone who works in a professional setting where I have to dress up in a business attire and this holster totally vanishes. And I mean it. It is completely concealable once I let the holster stay just at my waist with the gun it. If you have been looking for a holster that goes well in a professional attire then I can assure you that the Brave Response holster is capable of removing all your doubts by providing you the deepest level of concealment and that too with comfort. Just keep in mind that you might have to graduate up a pant size, considering what type of gun you are trying to conceal. It takes me a full minute to put it on but the time is worth the results.
Comfortable & Concealed Gun Holster.
I have been using the Brave Response Hostler for 3 months now. The holster stays in place the entire time while I talk a walk or ride my bike as I am a commuter and ride my bike daily 5 days a week while carrying the holster every day. This is literally the most comfortable holster I have purchased yet. I would definitely recommend this holster to everyone who carries a CCW revolver. It is so comfortable that once I forgot that I had it on.
Best Holster, Comfortable and concealed.
It has been only two days since I started wearing this holster and this has gotten extremely comfortable so quickly. This says volume about the comfort level this hostler provides. The Brave Response holster instantly molds to every counter of the waist, is soft and breathable. Just be careful about one thing; don't tighten the Velcro too much as the Velcro has heavy duty elastic band and industrial strength. The first time I strapped it, I tightened the Velcro too tightly and ended up losing it in the middle of the day. The hostler weighs nothing, is not at all bulky and stays put all day long. The plus point for me is that I can wear this holster in any piece of clothing even with pajama bottoms
Recommended Holster For Ladies !
Ladies! The hostler you have all been wishing to have is finally here! No clips, no belt loops. This one does not belong to the type of holsters that are designed only for men. This works awesome. I will never use the other 3 holsters that I brought previously because the Brave Response holster is the literally the BEST. I have been using it for over a month now. It is extremely comfortable and completely concealable and definitely highly recommendable!
Excellent Quality, Good gun concealment.
This is the best on duty holster I have ever bought. Excellent quality and practical functionality. It remains concealed and is quite comfortable. I regret I didn't find this holster earlier. With is light weight material, this hostler has literally made my life. I would totally recommend it to other duty officers
Frequently Asked Questions about Brave Response Holster
Features and Key Points of the Brave Response Holster
With the several numbers of holsters available in the market, the Brave Response Hostler does come with unique features to stand out. The innovative factors that make this holster special are as follows:
No need to hook or clip it as the holster has built in waistband that stays put all day long.
Provides a very serious level of concealment
Works capably for all your semiautomatic hand guns as it is a one size fit holster. You don't need to look for more hostler to carry different sizes of guns.
Proficient in holding three spare magazines along with the gun. You can also keep a flashlight with two spare magazines
Effortless to put on and takes lesser time as compared to other holsters in the market
Can easily fit any waist up to 54 inches
Allows you to grip mounted lasers (but doesn't allow rail mounted lasers)
Easily washable in machine.
Designed with the highest quality material i.e. Sharkskin which makes sure the hostler is enduring, comfortable and sturdy.
The highest quality industrial Velcro is used which I highly resistant to snag. The Velcro makes sure the holster stays securely around your waist and doesn't ruin your clothes in any way.
The elastic waistband provides extra strength while keeping the material light in weight and easy to carry.
Self-contained and exceptionally comfortable, can be worn with jeans, pajama bottoms, gym shorts, slacks etc.
"Is This The Holster You Have Been Looking For?"
Let's have a quick look at the important aspects of the Brave Response Holster. These factors prove the functionality and practicality of the product.
The holster is made with heavy duty but breathable canvas which makes it durable and last longer. As it is a thin holster, it is easy and comfortable to wear daily. The holster resists wear constantly and remains undamaged.
Due to its small and light design, it is highly applicable for daily use. You can ride a bike, go for a jog, drive a car and change your body in different physical positions like walking, bending, standing, while wearing this holster. It can be worn without belts with casual pants comfortably.
This holster provides absolute conceal-ability. It is literally undetectable. The manufactures of the Brave Response Holster has designed this gear keeping conceal-ability in mind.
The canvas of the holster is remarkably mold-able and can carry different types of guns adequately with some minor differences. The versatility and flexibility of the holsters allows the wearer to fit 5 or 6 guns tolerably. However, the holster doesn't entertain any gear attached to the rail.
The holster costs you $70. There are many holsters available in the market for a cheaper price but considering the factors that the brave response holster uses high quality canvas material and provides exceptional features, it should not be compared with other hostlers that use leather, Kydex or nylon as their main material.
The holster provides satisfactory safety. No chances of accidental disengagement of the article or accidental trigger movement are there, while drawing out the weapon. The holster keeps the trigger of your weapon completely covered.
It is easy to reach your weapon and draw it out from the holster. However, re-holstering with only one hand or without looking is not advised. Use two hands to carefully while re-holstering the holster to avoid any incident to occur.
Tranquil to Put On and Take Off:
The holster is very well-designed and dealing with Velcro and straps is definitely not a problem at all. You can easily put on and take off the holster for any personal needs. Due to its light weight material, it doesn't feel uncomfortable or bulky.
Stress-free Accommodation:
You can wear the holster with both open and closed garments without having to deal with any operation or concealment issue. You don't face any design issue that prevent you from wearing the holster with a coat, zippered jacket, shirt, sweater or any other garment.
Even though the brave response holster is quite secure, the pressure of your body pushing against the hostler helps in tightening up the retention of the gear even more.
And Here Is The BEST Part About The Brave Response Holster:
Worried you might not found you are looking for in the Brave Response holster? Well, that is very much unlikely to happen but still we try to make our choices as much relaxed and risk-free as we can. You get a complete money back guarantee while dealing with the brave response holster.
We offer you a 60 days manufacturer guarantee. We replace and repair your holster in the case of any concerns raised by the customer.
So, what are you waiting for? Gear up and be ready to get the best comfortable holster ever!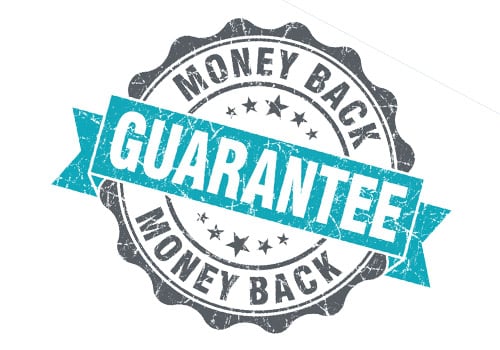 Buy Now