Hitting targets from 1,000 yards away doesn't come easy. You need a high-quality scope to help you achieve such a feat, as not all scopes provide the same performance. To help you find the best 1000 yard scope, we researched and compiled our top picks for your consideration.
Before we get to our reviews, there are some other important factors to consider. Your shooting needs might be different compared to the next gun owner, so you need to think about what your primary intentions are for investing in a scope.
Choosing the Best Scope for 1000 Yard Shooting
Below, you'll find a discussion on some of the most notable factors that should go into your 1000-yard scope purchase. For additional buying tips, be sure to check out our guide on the best sniper scopes. It has some excellent information to further assist you in your investment.
But today, we want to focus solely on 1000-yard scopes, as they have their own unique factors that need to be taken into consideration. Explore the main points below to help you better determine the right scope for long-range shooting.
Magnification
When it comes to hitting targets 1,000 yards away, you need to make sure your scope has the proper magnification capabilities. Obviously, you don't want to use a scope that's designed for close- or medium-range shooting.
Therefore, you want to avoid scopes that feature anything under 18x magnification. Some sharpshooters prefer going below this threshold. But unless you're a seasoned marksman, you should stay above 18x.
With that in mind, it's worth pointing out that more magnification doesn't always translate to a better scope. There are other factors that you must account for, as you'll see below.
Lens Quality
Your scope can have the highest magnification in the world. But if the lens quality is subpar, it won't mean a thing. Lens quality and magnification go hand-in-hand. So if your scope excels in one area but lacks in the other, its performance will suffer.
So you want to make sure your scope's lenses are made of superior glass. What's more, the glass should have a coating that helps improve your optics in various settings, such as:
Bright light
Low light
Snow
Rain
Scope manufacturers use a special coating that helps enhance visibility, thereby increasing your chances of hitting your target from afar. Plus, it also gives your scope's lenses improved durability. You want your rifle scope to stand up to plenty of use and abuse, and multi-coating is the feature for the job.
Reticle
Many gun owners make the mistake of buying scopes they don't fully understand. And a big part of that has to do with the scope's reticle. You want a reticle that you can easily read. But you also want one that allows for easy adjustments.
Please note that reticles often take time to learn. So if you don't understand its nuances right away, give it time. Invest the time into your scope to allow yourself to get acclimated to it.
Furthermore, you should choose one that's equipped with turrets that you find accessible and easy to use. This will aid you in getting the most from your scope while increasing your ability to lock onto distant targets.
The 5 Best 1000 Yard Scopes
Now that you know which points to consider in your scope's purchase, let's move on to our top picks for the best 1000 yard scope models. We carefully examined each entry's features to bring you the most reliable options on the market today.
1. Vortex Optics Viper PST Gen II Riflescope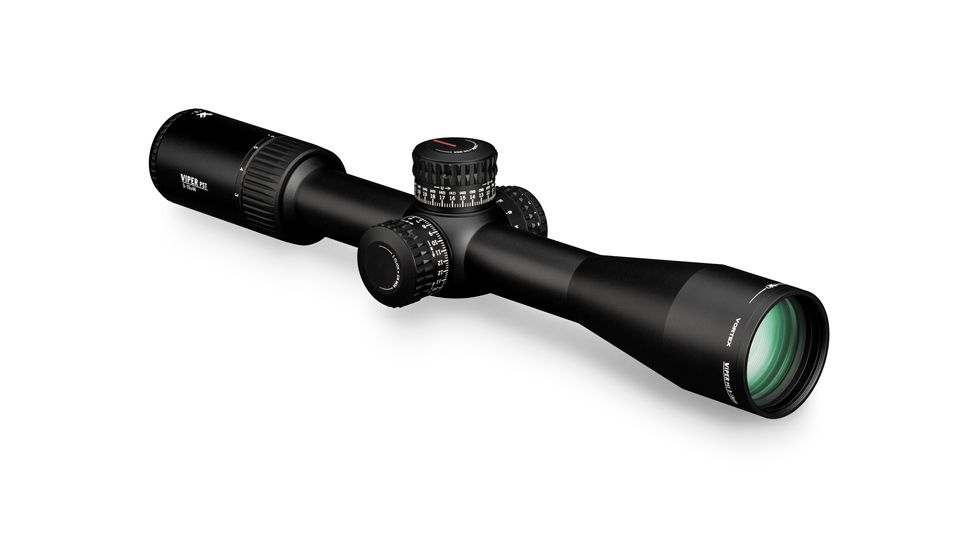 Vortex Optics has been making scopes for hunters, shooters, and tactical professionals for years. The company was founded in 2004 and has remained dedicated to producing high-quality optics. If you're looking for the best budget 1000 yard scope, the Viper PST Gen II is a must-see.
Today, Vortex Optics is a thriving company that manufactures hunting, shooting, and tactical scopes for any kind of outdoor enthusiast. One of their most prized products is the Viper PST Gen II rifle scope. This scope boasts precision accuracy and a crystal clear image even in low light conditions.
The Viper PST Gen II is a rifle scope that offers professional-grade performance in a compact design. It's designed to provide a sharp image in all kinds of weather conditions, so you don't have to worry about foggy or cloudy lenses.
The Viper PST Gen II delivers 5x to 25x magnification — the perfect combination for those trying to spot their prey from afar. The scope has an objective lens diameter of 50mm, which is bigger than most other scopes on the market while still being lightweight, making it very comfortable to carry with you during hunting excursions.
Vortex Optics offers this product as part of their Viper PST series, which is also known for offering excellent image quality and shooting accuracy in various conditions. And thanks to its multi-coated lenses along with Vortex's proprietary elevation turret system, the Viper PST Gen II is a well-rounded companion for your rifle.
If you're in the market for the best 1000 yard scope under 500, this one comes close. You can snag the Viper PST Gen II at a reasonable price point, especially considering its stellar quality and craftsmanship. You're definitely getting your money's worth here, making it a worthy investment.
Pros:
Phenomenal turrets
Superior accuracy
Excellent reticle
Highly durable
Weatherproof
Cons:
Could use more vertical adjustment
Final Verdict
When it comes to narrowing down the best scope for 1000 yard shots, our pick goes to Vortex Optics' Viper PST Gen II. This is such a well-made scope from top to bottom. Hunters and competition sharpshooters alike will surely appreciate the 5x to 25x magnification.
With it, medium- to long-range shooting is possible and at a price you can afford. This is a nice feature to see, as it offers greater versatility in your shooting. If you need a scope that accommodates different distances, Vortex Optics makes it possible at an affordable price.
2. Athlon Optics 4.5-30×56 Ares ETR UHD Riflescope
When it comes to looking through a rifle scope, its optics are everything. Indeed, a rifle scope's optics are the most important part of its design because they are what determine how close you can look at your target without missing a shot.
The Athlon Optics 4.5-30×56 Ares ETR UHD riflescope offers excellent magnification and high-quality optics in a compact package that is lightweight and easy to carry. This rifle scope has an impressive field of view, parallax correction, and light gathering ability that make it perfect for any hunting or shooting situation.
Additionally, the Athlon Optics Ares comes with a 34mm tube diameter and 56mm objective to offer incredible magnifications without adding bulk. This high-power scope is a favorite among hunters and sharpshooters for its durability, accuracy, and reliability.
Athlon Optics utilizes multi-coating on the lenses to help enhance clarity and durability. Reflective light becomes reduced, and light transmission is increased to provide you with exceptional visibility in all kinds of conditions.
What's more, the Ares ETR UHD is completely waterproof to help combat weather conditions of all kinds. Another nice addition is the lock elevation turrets. Thanks to these, accidental bumps won't throw your settings out of whack.
With its 3.9-inch eye relief, the Ares ETR UHD provides some of the best comfort you can find in a scope. And when it comes to hitting targets from great distances, this is a welcome addition. For the price, you're getting everything a marksman could want in a 1000-yard scope and more.
Pros:
Excellent light transmission
Ultra-precise turrets
Multi-coated lenses
Incredible clarity
Accurate
Cons:
No factory lens protection covers
Final Verdict
Armed with 4.5x to 30x magnification, the Ares ETR UHD will assist you in hitting targets beyond your typical range. In fact, it's ideal for close-, medium-, and long-range shooting, giving you plenty of versatility to hit a variety of targets.
3. Nightforce Optics 12-42x56mm BR Benchrest Series Riflescope
The Nightforce Optics 12-42x56mm BR Benchrest Series riflescope is another excellent piece of hardware for hunters and sharpshooters. The optics are designed to be more durable, light, and easy to use than traditional scopes.
When hunting or taking part in shooting sports, you need a scope that will give you the upper hand over your competition. With features that deliver an incredible shooting experience, the BR Benchrest Series Riflescope is one of our favorites yet.
This scope has it all, including 12x to 42x magnification. As such, you'll be able to see details with ease and spot moving targets from a farther distance than ever before. It also has low dispersion glass lenses, which improve light transmission and clarity throughout the entire scope.
What's more, this scope is also waterproof and fogproof, so you don't have to worry about losing sight of your target in inclement weather conditions. The clarity of the glass lenses is second to none, offering exceptional visibility, even at targets sitting at great distances.
It is a bit tedious having to use an Allen wrench to zero the turrets. But once you do, they are very accessible and feel great in action. The tactile and audible feedback are superb, meaning you don't have to look away from your target to make the necessary adjustments.
If you're looking for a 1000-yard scope that provides optimal clarity, look no further. You have to see the imagery to truly appreciate the feat Nightforce Optics has achieved here. It's true that you'll spend a good chunk of change on this scope, but you're getting every penny's worth.
Pros:
Weatherproof design
Superb magnification
Superior lens glass
Exceptional optics
Cons:
Zeroing the turrets is tedious
Final Verdict
It's evident that Nightforce Optics put a lot of effort into delivering a phenomenal scope with the BR Benchrest Series. Everything about this 1000-yard scope screams quality, from its optics and clarity to its accessibility and response.
Other than having to use the Allen wrench to zero the turrets, everything else is top-notch. And thanks to its impressive 12x to 42x magnification, you can hit medium-range and long-range targets with incredible precision.
4. Steiner T5Xi Tactical Riflescope
If you're in the market for a new scope, then you've probably heard of Steiner. They make some really good scopes, and the T5Xi Tactical is no exception. Yes, it is a bit more expensive than other models, but it has features that make it worth the price.
You can choose from a variety of magnifications, but our money goes to the 5x to 25x model for long-range shooting. On top of that, you can look forward to incredible accuracy, thanks to the precision craftsmanship.
The Steiner Tactical T5Xi riflescope is an ideal choice for any rifle owner looking to upgrade their current shooting gear. This scope offers everything from illumination to zero-stop tactile turrets. We were a bit dismayed to see a lack of eye relief in the T5Xi model, but it's manageable as is.
Quick target acquisition ensures uncompromising accuracy, and the optics clarity is outstanding. You can clearly see impact points on steel targets, further emphasizing just how excellent the glass lenses are on this scope.
The durability is also top-tier, as this scope can take a beating and continue looking and functioning just as good as the day you bought it.
The magnification range affords you plenty of shooting versatility, which is nice to see in a scope designed for 1000-yard shots. With so much going for it, Steiner gives you plenty of reasons to invest in this pricey scope.
Pros:
Superior glass quality
Responsive turrets
Nice illumination
Incredible clarity
Cons:
Final Verdict
It's not often that you find a 1000-yard scope that handles close-range shooting so well, but the T5Xi Tactical delivers. That's not even mentioning the stellar medium- and long-range shooting capabilities of this scope.
You really get a lot of bang for your buck, which shouldn't be surprising coming from one of the more expensive offerings. Steiner will quickly earn your favor with the T5Xi Tactical, so give it some consideration if you have the extra money to spend.
5. Zeiss Conquest V6 Scope
Rounding out our reviews is the Zeiss Conquest V6, our pick for the best 1000 yard scope for 308 rifle owners. At its core, the Zeiss Conquest V6 is a remarkable piece of craftsmanship that will impress the majority of shooters.
The German optics provide some of the best performance and reliability you'll find in today's scopes. Truly, the clarity is absolutely stunning, ensuring accuracy when shooting.
You'll also appreciate the elevation and windage adjustments to be responsive and crisp. Zeiss did an excellent job of producing turrets that provide feedback in all the right ways. The Ballistic Stop (zero stop) feels equally responsive, so you never have to second-guess your input.
The only issue we found that might cause problems later down the road is the elevation turret. It's held in place by a Torx screw that feels like it could break with too much stress. As such, you'll want to be careful when making any adjustments to this.
Other than that, we can't find anything wrong with this scope. Zeiss did a fantastic job of making a well-rounded 1000-yard scope that shines in action. The glass is some of the best we've seen in a scope, allowing for exceptional visibility in different conditions.
And thanks to LotuTec coating, you don't have to worry about fog or other moisture issues interfering with your shot. Even light doesn't factor into your shooting experience. Whether you're shooting at dusk, dawn, or any time in-between, you can expect nothing but clarity and precision.
Pros:
Impressive 92% light transmission
German components
High-quality glass
Durable
Cons:
Questionable elevation turret
Final Verdict
Zeiss gets it right with this scope. It's a well-made addition to your 308 that handles distance shooting well. With 3x to 18x magnification, it's just under the threshold for long-range shooting.
But because it's also capable of 3x magnification, the scope allows you to easily manage close- and medium-range shooting, as well. As such, you're getting a versatile scope that will serve you well in a variety of situations.
Conclusion
As you consider your options for the best 1000 yard scope, it's important to think about your primary uses for it. Do you plan to hunt, or do you mainly shoot in competitions? Perhaps you require a 1000-yard scope for tactical purposes.
Whatever your needs, we're confident that one of the above scopes will meet them. If you're on a budget, Vortex Optics' Viper gives you a lot for the price. But if you need a scope that offers extremely long-range shooting, you may want to consider Nightforce Optics' BR Benchrest Series.
You might need to spend a bit more to achieve your demands, but the extra money will be well worth the investment.