For most of the people, finding and then buying a cost friendly AR-15 optics is indeed a daunting task. We all know that with every price, the manufacturer of the product is putting some money in his pocket. It is pretty much fair, fine and reasonable, However, what matters the most is that where are they saving the money. In this article we would discuss at3 tactical leos review.
I feel it stating here that in today's world, investing in to a tactical scope such as AT3 Tactical LEOS Red Dot Sight; you are actually not buying a top ranked experience. At the same time, you are not even pocketing too bad; specifically when think of saving the money. It can be bought in $117.99 and it is pretty much decent amount indeed.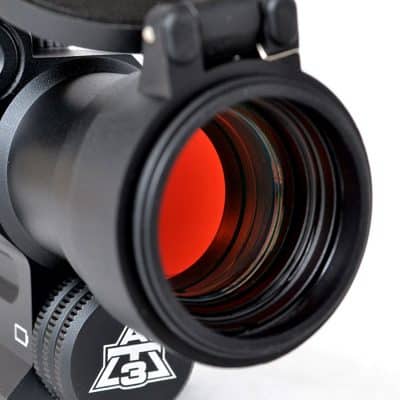 Specification:
AT3 LEOS Red is offered in the market with 2MOA red dot as well as red laser. Battery life of the sight is around 50k hours maximum. It makes use of CR123A.
It is accessible with riser mount housing. This sight claimed that it is allowed to be adjusted for several elevation situations and for the wind as well. It can be safely used for the shotguns and for the larger ones too,
Durability of the sight is affected by the recoiling of the rifle. In other words, it would be very right to say that at times the user ends up costing more to him as compared to saving the money.
Being nitrogen purged AT3 LEOS Red is water proof and fog proof. You will be allowed to co witness the iron sites in the lower third glass view. This is something I actually liked and for me, it is one of the essential parts of a sight.
In case, the battery dies, you reserve every way to revert to the iron sights. You will not have to remove the AT3 LEOS Red dot sight.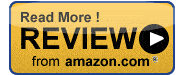 AT3 Leos Design:
From looks point of view, the AT3 LEOS Red is a decent looking optic. It has a back matte finishing along with a couple of flip up lids. It is somehow same as offered by the Vortex Strike fire 2 however, not as clean and sharp as that is.
The buttons are there at a very decent position on the left side. It enables the speedy adjustments without removing the sight.
The AT3 LEOS lens is almost 1 x 30mm and its weight is 8.3 ounces. If you are looking to have one for your home defense then this sight should be preferred. It is equally useful for the hunting purposes.
It is parallax free for 25 yards. AT3 tactical Leos is this characteristic that makes the acquisition of the nearer target outstanding. If needed; you can even add a magnifier and you will not be stuck with the 30mm anymore.


So if you have Picatinny rails then you will not have any issue while mounting it. At the same time, sighting will not be an issue in any manner. When you hold it in hands, you will have a high quality and durable feeling. I myself fired it from the Smith and Wesson MP sport and it worked pretty much fine.
However, I have not tested it on .308 or higher values. I don't know if I can trust it to this much level. Reading the reviews at Amazon, I feel it will do great in higher too.
Budget does matter a lot and it is no doubt that AT3 LEOS Red dot sight is reasonable priced to be bought. In other words, for all those who have strict budget can always buy the AT3 LEOS Red dot sight without any burden on their pockets.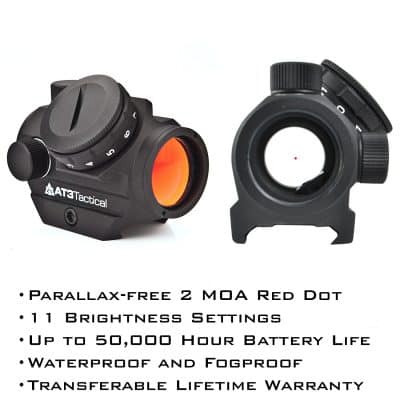 Prominent features of the AT3 Tactical Red Sight:
Let us now have a brief look at some of the important features of the AT3 LEOS Red dot sight. These are as follows:
It is a crisp 2 MOA red dot
It has been offered with an integrated housing of riser mount
Battery life of the sight is 50k hours minimum
It has brilliant red targeting laser coupled with W/E adjustment
AT3 has elevation adjustments and tool free windage
It is supported with a AT3 Tactical lifetime warranty
All these features make it a perfect choice for the home defense, hunting, law enforcement, competitive shooting, pinking, or any other scenario where shooting with magnification is not needed.
Conclusion:
To conclude the discussion, it would be very right to say that for all the people out there who have strict budget to buy a red dot sight; buying AT3 LEOS Red dot sight is a wise decision. It offers handsome battery life, with mounting housing.
I have experienced and it works really well under the water as well as during foggy days. What else do you expect in the price that it is offered? You will not regret possessing one for your personal usage.