Before beginning with the formal AT3 LEOS Review, have you ever wondered why these red dots are awesome? Well to be precise, there are four main reasons for this, i.e. unlimited eye relief, co-witness, parallax free, and allowing the users to keep both the eyes open. In this AT3 LEOS Review, we try to cover everything related to AT3 LEOS.
Unlimited Eye Relief:
Unlike other sights, these red dots amuse the users with maximum eye relief. This means that there will not be any set maximum or minimum distance that you will need to mount from your eye. https://www.youtube.com/embed/5OrmBy4tn7E
Co-Witness:
It depends on you how you choose the height of the red dot to co-witness your irons. Therefore, even if you will have the red dots being down you can have your irons. Lower 1/3 enables the user with more room while the absolute co-witness places dot on irons.
Parallax Free:
Red dots are parallax free which means red dot will move along you and the point at the same target simultaneously. Therefore, you need not have a super-accurate position to get the right shot.
Must Read Our Article:: Best Scope for Remington 700
Keep The Both Eyes Open:
These red dot sights are designed in a way where the users can keep both eyes opened. It is easier with red dots as compared to the iron sights which allow both the eyes to enjoy an unlimited view of the field.
For most of the people, finding and then buying a cost-friendly AR-15 optics is indeed a daunting task. We all know that with every price, the manufacturer of the product is putting some money in his pocket. It is pretty much fair, fine and reasonable, However, what matters the most is that where are they saving the money. In this article, we would discuss at3 tactical less review.
I feel it stating here that in today's world, investing into a tactical scope such as AT3 Tactical LEOS Red Dot Sight; you are actually not buying a top-ranked experience. At the same time, you are not even pocketing too bad; specifically when think of saving the money.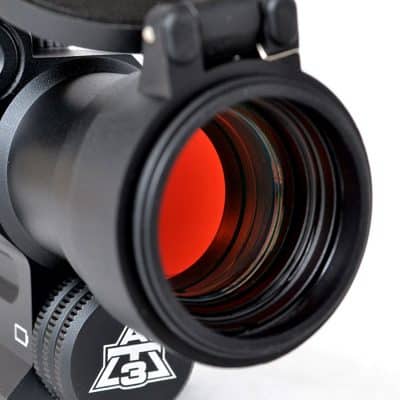 Specification:
AT3 LEOS Red is offered in the market with 2MOA red dot as well as red laser. The battery life of the sight is around 50k hours maximum. It makes use of CR123A.
It is accessible with riser mount housing. This sight claimed that it is allowed to be adjusted for several elevation situations and for the wind as well. It can be safely used for the shotguns and for the larger ones too,
The durability of the sight is affected by the recoiling of the rifle. In other words, it would be very right to say that at times the user ends up costing more to him as compared to saving the money.
Being nitrogen purged AT3 LEOS Red is waterproof and fog proof. You will be allowed to co-witness the iron sites in the lower third glass view. This is something I actually liked and for me, it is one of the essential parts of a sight.
In case, the battery dies, you reserve every way to revert to the iron sights. You will not have to remove the AT3 LEOS Red dot sight.
Accuracy:
This red dot sight is a Crisp with 2 MOA red dot along with 6 brightness settings which are considered to be accurate for shooting with both the eyes opened
It amuses the users with a brilliant red laser enabling rapid targeting. This feature makes it an ultimate choice for the tight quarters, home defense, and low visibility
It is a crystal clear optics which is multi-coated and resists all kinds of scratches providing clarity in all kinds of situations
It maintains zero even when used with the high caliber weapons
Versatile:
The red dot offers digital controls for simple control of integrated laser and sight. One can switch between the red dot only as well as red dot + laser only mode with the single push of the button.
With an integrated riser mount, sight is enjoyed at optimal eye level enabling 1/3 co-witness with an AR-15 iron sight
There is elevation adjustment and tool-free wind-age paired with an integrated screwdriver on the W/E caps
Red dot sight also amuses its users with spring assisted flip-up lens caps. It provides rapid deployment with perfect lens protection
Reliability:
The red dot sight is offered with aircraft aluminium housing with a sturdy matte black hard coat finish
The dot sight is for as well as waterproof. It is a sealed design with optics that are nitrogen purged
This red dot sight entertains its users with battery life as long as up to 50,000 hours on minimum brightness when it is set on red dot only. On the other hand, it can be continuously used with red laser usage up to 40 hours and 8 hours when set at green laser use
The red dot sight is made shockproof up to 800 G's. This simply means that this red dot is capable of withstanding any recoil being thrown at it
It commonly makes use of the CR123 lithium batteries with Surefire CR123A included
It has easy thumb screw for secure mounting to any of the Picatinny rail
The red dot sight has been well backed by an AT3 lifetime warranty
Technical Specifications:
Some of the prominent technical specifications of this red dot sight can be summarized as follows:
It has a 1x30mm powered obj lens
The reticle has a 2MOA red dot
A lens is secured with the help of multicoating
Mount height of the dot is 1.58" from rail up to the centre of the sight tube
Battery life of the red dot sight is up to 50,000 hours on minimum brightness and almost 40 hours for uninterrupted laser usage
Type of the battery used by this dot is CR123A along with a SureFire 1550 mAH cr123
The weight of the dot is 8.3 oz
Mounting length of the product is 1.1 inch / 28mm
Total length, height, and width of the dot is 4.3in, 3.1in, and 2.3 in respectively
The dot offers unlimited eye relief and an unlimited field of view
It is parallax free i.e. 25 yds
It is not compatible at night time
The dot is nitrogen filled
It is a shock, water, and fog proof
It has a laser power wavelength of 632-650nm
The green laser wavelength of the red dot is 532nm while green laser power is 4mW class IIIA
It is matte black anodized
Having a look at the features of this AT3 Tactical Leos, it can be concluded that it is perfect for the tactical and law enforcement, home defence, plinking, hunting, competitive shooting or any other kind of shooting scenario where the user does not need any magnification.
The red dot is indeed optimized for AR-style rifles, shotguns, sporting and hunting rifles, air rifles, and any other kind of weapons with Weaver mounting rail or a Picatinny. In this AT3 LEOS Review, we also talk about its design.
AT3 Leos Design:
From a looks point of view, the AT3 LEOS Red is a decent looking optic. It has a back matte finishing along with a couple of flip-up lids. It is somehow the same as offered by the Vortex Strike fire 2 however, not as clean and sharp as that is.
The buttons are there in a very decent position on the left side. It enables speedy adjustments without removing the sight.
The AT3 LEOS lens is almost 1 x 30mm and its weight is 8.3 ounces. If you are looking to have one for your home defence then this sight should be preferred. It is equally useful for hunting purposes.
It is parallax free for 25 yards. AT3 tactical Leos is this characteristic that makes the acquisition of the nearer target outstanding. If needed; you can even add a magnifier and you will not be stuck with the 30mm anymore.
So if you have Picatinny rails then you will not have any issue while mounting it. At the same time, sighting will not be an issue in any manner.
When you hold it in hands, you will have a high quality and durable feeling. I myself fired it from the Smith and Wesson MP sport and it worked pretty much fine.
However, I have not tested it on .308 or higher values. I don't know if I can trust it to this much level. Reading the reviews at Amazon, I feel it will do great in higher too.
A budget does matter a lot and it is no doubt that AT3 LEOS Red dot sight is reasonably priced to be bought. In other words, for all those who have a strict budget can always buy the AT3 LEOS Red dot sight without any burden on their pockets.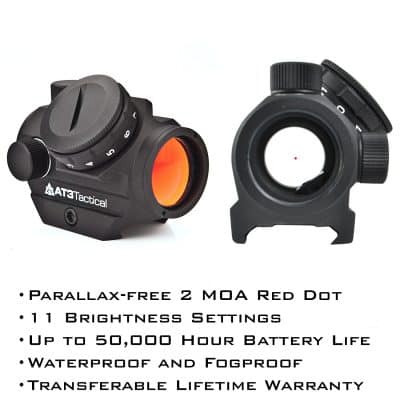 Prominent Features Of The AT3 Tactical Red Sight:
Let us now have a brief look at some of the important features of the AT3 LEOS Red dot sight. These are as follows:
It is a crisp 2 MOA red dot
It has been offered with an integrated housing of riser mount
Battery life of the sight is 50k hours minimum
It has brilliant red targeting laser coupled with W/E adjustment
AT3 has elevation adjustments and tool-free windage
It is supported with an AT3 Tactical lifetime warranty
It has a flip up lens
Having a look at the features of this AT3 Tactical Leos, it can be concluded that it is an ideal reflex sight for the defense purposes.
Must Read Our Article::Things to Know About The Burris Fastfire III, 3 MOA Sight
You can have it for the security purposes of your home. Professionals from law enforcement agencies, hunters, plinking as well as people participating in shooting competitions can make use of the sight. In addition to all these scenarios, anywhere one needs magnification; this reflex sight can be used.
Temperature And WaterProof Testing
Both these tests have been proven to be perfect in all kinds of weather and even extreme weather conditions.
What Is Inside The AT3 Tactical Red Dot Sight Box?
When you will buy this piece of product, the box will offer you the following things:
LEOS red dot sight
Instructions manual
Cloth for lens cleaning purposes
Surefire CR123 battery
All these features make it a perfect choice for the home defense, hunting, law enforcement, competitive shooting, pinking, or any other scenario where shooting with magnification is not needed.
Must Read Our Article::5 Best Spotting Scopes
Conclusion:
To conclude the discussion, it would be very right to say that for all the people out there who have a strict budget to buy a red dot sight; buying AT3 LEOS Red dot sight is a wise decision. It offers handsome battery life, with mounting housing.
I have experienced and it works really well under the water as well as during foggy days. What else do you expect in the price that it is offered? You will not regret possessing one for your personal usage.
All these aforementioned features make it a perfect choice for the home defence, hunting, law enforcement, competitive shooting, pinking, or any other scenario where shooting with magnification is not needed.
Most of the shooting lovers will never be willing to put an optic on their target rifle or home defence. This tactical is therefore for the everyday shooters who are willing to have a high-quality product at the middle-level budget. This will not let you down in any manner.
It is no doubt a stressful activity to look for a reflex sight that is reasonably priced, but you can get this sight and enjoy using it at your best. It is indeed a good budget optic in every possible manner. You will not regret investing your hard earned income into this sight.