The .243 Winchester is an all-around solid cartridge that's used primarily in the United States and the UK. It's one of the best cartridges for hunting medium-size game species like whitetail deer and similar animals, though it's also a popular cartridge for target shooting and some property defense needs due to its accuracy at sub-300 yards.
Although it's an all-around consistent cartridge, your .243 rifle will only be as effective as possible if you pair it with a quality optic that can improve your accuracy at a distance and help you hit fantastic shots. With that in mind, let's break down the best scopes for .243 rifles in detail.
What to Consider When Buying a Scope for .243 Win
If you want to maximize the performance of your .243 scope, you'll need to consider a few major factors and ensure that your optic has at least some of these aspects for adequate performance and durability.
Multicoated Lenses
The best scopes for .243 Savage or Winchester rifles will have multicoated lenses at a bare minimum. Multicoated lenses simply mean that the lenses are coated with several synthetic materials that improve light transmission and durability. In other words, the lenses will last longer and provide a clearer, sharper sight picture when you look through the optic.
Excellent Outer Materials
Odds are you'll be using your .243 Winchester rifle for hunting and target shooting rather than combat (though it can serve as a decent property or personal defense rifle). In that case, you'll want an optic that can withstand inclement weather and last for a long time when used in the field.
Look for scopes made with aircraft-grade aluminum and weatherproofing functionality. Weatherproofing functionality will ensure the scope continues to work even in foggy or rainy conditions.
Good Windage/Elevation Turrets
We'd also recommend you look for excellent windage and elevation adjustment turrets. Again, you'll probably be using this scope to hunt various game species, so you may need to compensate for wind direction and elevation in the field.
Looking for an optic with excellent adjustment turrets will allow you to compensate for these variables. Some of the best turrets let you lock in the adjustment values without having to worry about your fingers or elbow accidentally bumping the knobs and resetting your turrets.
Illuminated Reticle
While optional, some of the best scopes on the market will have illuminated reticles of one style or another. Illuminated reticles show up more clearly against the background and can help you hit targets that may blend in against their environment, such as smaller game species.
Illuminated reticles are frequently paired with adjustment knobs that allow you to change their brightness intensity or color. In general, the more options that are available to you, the better.
What Magnification Do You Need Based on Shooting Distance?
The .243 Winchester is a phenomenal and multipurpose cartridge that's often used for hunting whitetail deer and other medium-sized game out to distances of 300 yards or 270 m.
While the cartridge can be used to take down game at longer distances than this, your accuracy will sharply decrease, as the cartridge doesn't have the momentum to counteract wind drag and gravity as well past this point.
Therefore, you should look for scopes that have a magnification of at least 4x. This will allow you to take advantage of the .243 Winchester cartridge's maximum effective range with your optic while also allowing you to use a scope with lower magnification powers for close to medium-range hunting. Scopes at this level will also let you zoom in at 1x, 2x, or 3x magnification depending on their specifications.
If you keep your rifle in tip-top condition and have excellent cartridges, you might be able to hit targets and down game out to 400 yards or so. In this case, you'll want optics with magnification ranges of 6x or higher.
Bottom line: 4x is the magnification power to shoot for (pun intended).
The 5 Best Scopes for .243 Winchester
Now that you know what to look for in an ideal optic, let's take a look at five of the best scopes for .243 Win rifles from several of the most popular manufacturers.
1. Vortex Optics Diamondback 4-12×40 SFP Scope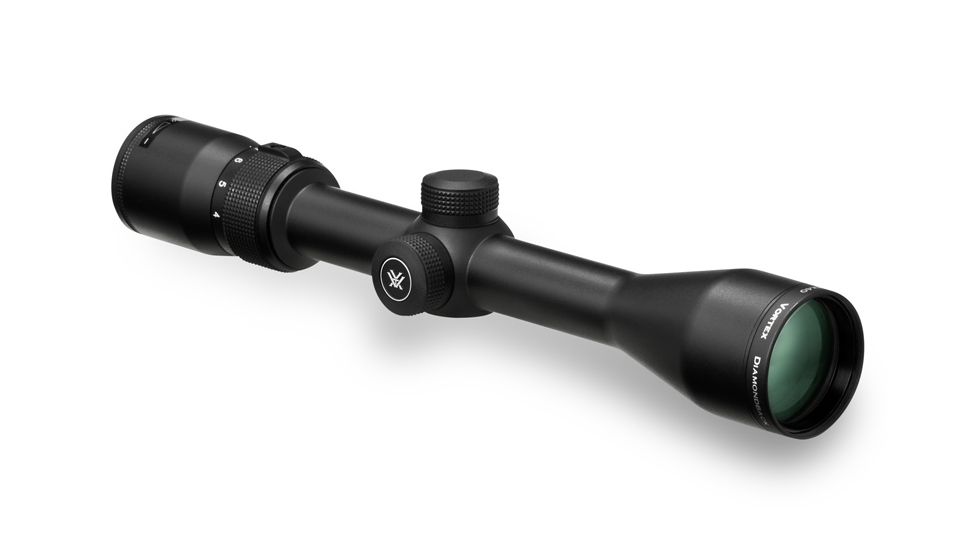 Check Price on Amazon Check Price on OpticsPlanet
Vortex Optics makes some of the best optics for a variety of hunting rifles and other firearms, and their Diamondback 4-12x scope is no exception. This quality rifle scope can magnify between 4x and 12x, meaning it hits the minimum magnification requirement touched on above.
The scope is also designed with a second focal plane reticle. This means the reticle will not change sizes as you swap between magnification settings. While this will require a little mental math and calculation on your part, it's an easy reticle style to get used to compared to first focal plane reticles.
Furthermore, the reticle here is a BDC or bullet drop compensating reticle. It'll include hash marks on the lower vertex to help you project where your bullet will land when compensating for bullet drop. Add to that multicoated lenses that provide crystal-clear and ultra-sharp imagery, and you've got a fantastic rifle scope through and through.
But that's not all. This optic also includes metal-on-metal precision turrets with zero reset-ability. For hunters that love to use .243 Winchester rifles, this will be a fantastic addition as it'll allow them to compensate for both windage and elevation quickly and consistently.
We also like this optic for hunting purposes due to its hard-anodized finish and weatherproofing.
Pros:
Has phenomenal lenses
Reticle is great for hunting with .243 cartridges
Has weatherproofing and durable exterior
Comes with zero-reset turrets to prevent accidental bumping
Cons:
Windage and elevation turrets are not outwardly marked
Summary
All in all, the Vortex Diamondback rifle scope is a solid choice for pairing with any .243 rifle due to its durability and focus on hunting advantages. Its affordability compared to other scopes is a nice plus, as well.
2. Athlon Optics Argos BTR Gen2 6-24X FFP Riflescope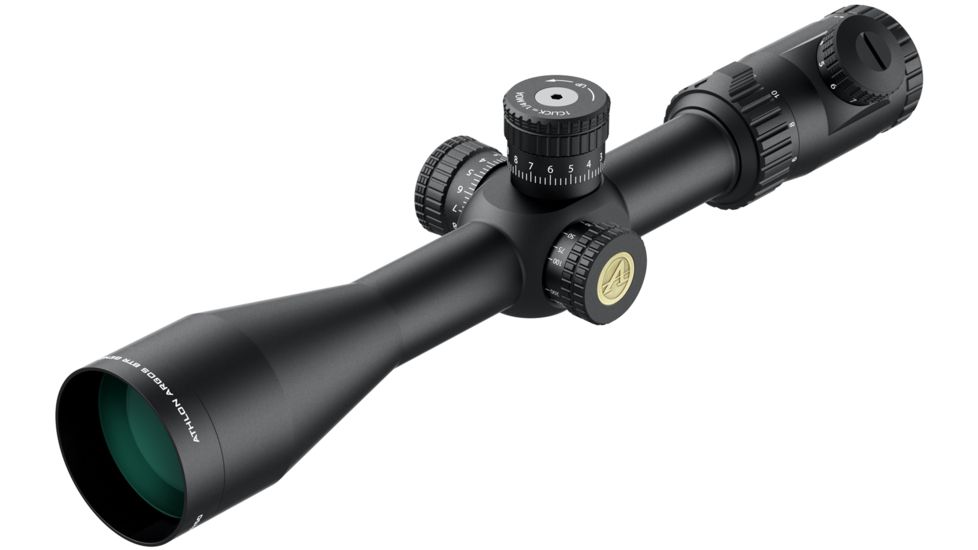 Check Price on Amazon Check Price on OpticsPlanet
If you're willing to spend a little more to ensure your .243 Winchester performs as well as possible, this optic from Athlon might be the ideal choice. It's a 6x-24x first focal plane riflescope, so its minimum magnification is a little farther than most people use .243 cartridges for anyway.
But that means it's a perfect optic if you want to maximize the performance of your .243 rifle. You'll need to combine this scope with high-quality ammunition and an excellent rifle, and your marksmanship will also need to be up to snuff.
But if you can manage all that, you'll benefit from a first focal plane reticle that adjusts its size based on your magnification power, as well as a parallax adjustment knob to help you compensate for that variable at long distances. While the FFP reticle takes some getting used to, it comes with an illuminated center and crossline that can help you hit those tough shots upwards of 400 yards.
The scope also comes with multicoated optics to reduce reflected light and improve light transmission: this feature is absolutely necessary if you want to stretch how far your .243 rifle can hit targets accurately.
Of course, this optic is also a solid hunting accessory since it is waterproof and protects its interior components from rain or fog or from accidental submersion underwater.
Pros:
Has high-quality lenses with optimal light transmission
Windage and elevation turrets are tactile and easy to adjust, and they have a zero stop system so you can lock down a particular zero position
Comes with an additional parallax adjustment turret
FFP reticle can help you hit distant shots more accurately
Reticle has an illuminated center
Cons:
A little long-distance for most .243 uses
FFP reticle also takes a little getting used to
Summary
Ultimately, Athlon Optics' rifle scope is a quality piece of equipment through and through. We would only recommend it for .243 Winchester users, however, if they want to try to hit targets upwards of 300 yards: the most commonly accepted effective range for this cartridge. Pair it with an excellent rifle and possibly personalized ballistic loads and you'll make the most of this optic choice.
3. Leupold VX-Freedom 3-9×40 Riflescope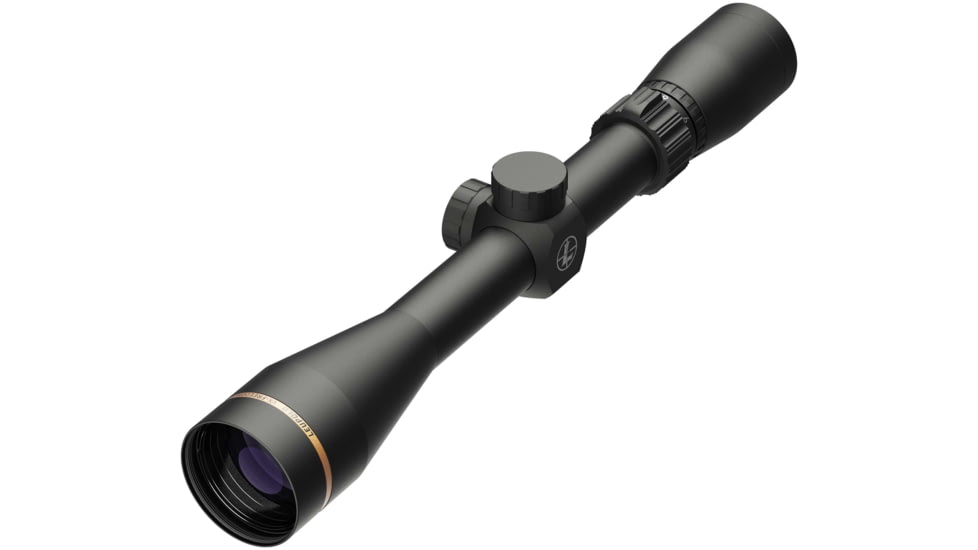 Check Price on Amazon Check Price on OpticsPlanet
Leupold's VX-Freedom rifle scope is well known as one of the best hunting optics in the industry, so it's an automatically excellent choice for .243 Winchester users. For starters, it has magnification settings right in the sweet spot for the .243's effective range (300 yards or so). This allows you to use it for both moderate and long-distance shooting with your rifle.
The scope also comes with a high-quality aluminum exterior, which provides it with durability and low weight. Your Winchester rifle won't be unduly unbalanced when you mount this scope as a result.
Most important of all, Leupold's optic comes with an advanced optical system that significantly improves light transmission. In total, it can add a few extra minutes of shooting light at the beginning and end of your hunting expedition. Since many hunting species are most active at dusk and dawn, this can be extremely beneficial when combined with your .243 Winchester rifle.
You can pair the optic with one of two reticles: a streamlined Hunt-Plex reticle or a more detailed Tri-MOA CDS reticle for additional holdover accuracy.
Of course, the optic is totally waterproof and weatherproof and features scratch-resistant lenses for extra protection. Its matte finish, furthermore, will prevent the sun from flashing or glaring on the surface and giving away your position during a hunting trip.
Pros:
Lenses are durable and transmit extra light at the beginning and end of the day
Has a matte finish for extra stealth
Great magnification ranges for combining with .243 Winchester cartridges
Very durable and resistant against inclement weather
Cons:
A little pricey, but still worthwhile overall
Windage and elevation turrets are unmarked
Summary
The VX-Freedom rifle scope is a fantastic choice for .243 Winchester users and any hunting rifle overall. Pick it up if you want something versatile and effective for an extremely reasonable (if not overly budget-friendly) asking price.
4. Vortex Optics Viper HS-T 4-16×44 SFP Riflescope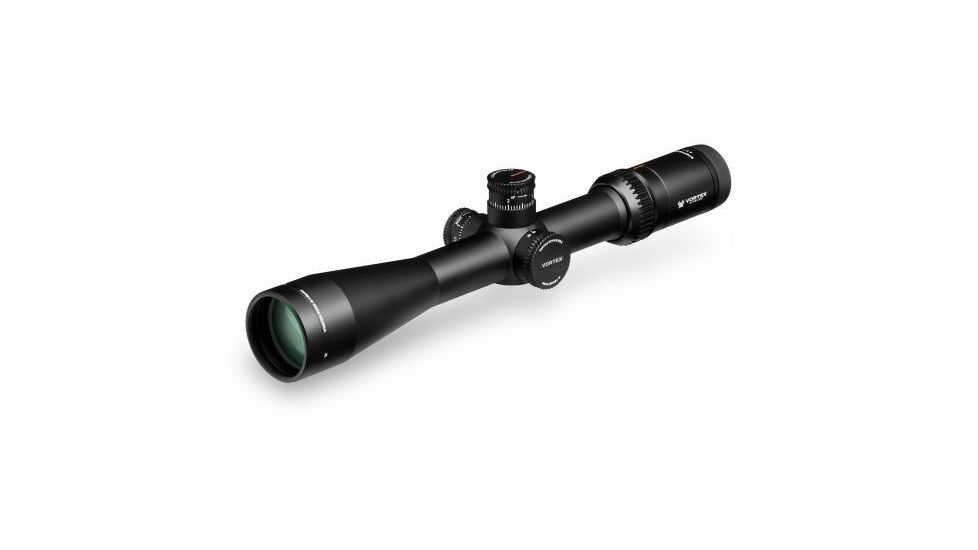 Check Price on Amazon Check Price on OpticsPlanet
Vortex Optics returns to our list once again with this second focal plane rifle scope. There are two reticle choices available: the VMR-1 MOA Reticle is ideal for ensuring accurate bullet holds at extended distances, while the VMR-1 MRAD Reticle will be ideal for perfectly accurate long-distance target shooting or for hitting hunting shots you can't afford to miss.
Both reticle designs are perfect for combining with hunting rifles chambered for .243 Winchester ammunition. Additionally, the scope comes with two different magnification ranges and objective lens sizes: 4-16×44 and 6-24×50. We recommend the former over the latter, although both magnification ranges are a little high for what we'd expect a .243 user to utilize.
This optic also comes with a number of other advantages, including fully multicoated and low light dispersion lenses that have extra durable "Armortek" coatings. Again, this is excellent for .243 Winchester users since more durability in the field is always a great thing.
The scope is also fantastic for being able to adjust for windage and elevation. It features target-style windage and elevation turrets that offer tactile finger adjustability, with audible clicks denoting every adjustment you make. A built-in zero stop functionality lets you lock the turrets into place and return them to zero capability in an instant.
Overall, the optic is durable and well constructed, featuring an exterior made of aircraft-grade aluminum and weatherproof sealants to ensure performance in the field and in any weather conditions. The big downside is its asking price, which is pretty high, but many will find this hunting optic well worth it anyway for its versatility and durability.
Pros:
Very tough, both in terms of its body and lenses
Has two excellent reticles to choose from depending on your preference
Turrets are well constructed and offer tactile/audible reinforcement
Scope is supremely balanced
Cons:
The upper magnification ranges are a little too high for most .243 cartridges
A little expensive compared to other optics
Summary
This optic from Vortex may be the best choice for .243 Winchester fans that really want to maximize their shooting accuracy at a distance. But keep in mind that you may not use the scope to its fullest functionality, as 16x and 24x magnification are far beyond what even the best .243 cartridge can manage.
5. Leupold FX-3 6x42mm Riflescope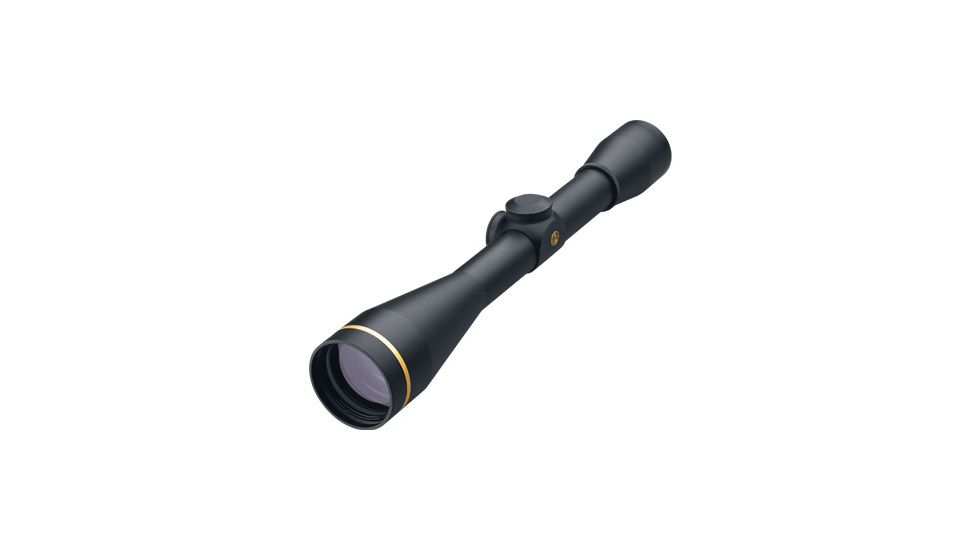 Check Price on Amazon Check Price on OpticsPlanet
Leupold's other .243-suitable offering, the FX-3, offers a fixed magnification solution at 6x: perfect for use with your .243 rifle. That's the ideal maximum range for this cartridge in most circumstances. While the scope is a little heavy at 1.3 pounds, it's far from overly bulky, and you'll benefit from a number of extra advantages if you pick this optic up.
Granted, the scope is a little expensive, but it's well worth the cost when you consider all the benefits that come along with it.
For instance, the Wide Duplex reticle is streamlined and sleek and is perfect for hitting even small or distant targets without cluttering your sight picture. Naturally, the optics are multicoated for extra durability and light transmission.
But this optic also comes with Leupold's proprietary Twilight Light Management System, which could provide you with an extra 10 minutes of shooting light at the beginning and end of the day. As touched on before, this is perfect for hunting with your .243 Winchester rifle, especially if your targets are most active during these time frames.
The optic is totally weatherproof and waterproof and is durable to the max. We also really like the eye relief offered, which clocks in at 4.4 inches. Thus, you'll never need to worry about your rifle bucking into your eye and damaging your orbital bone (not that that's a big concern with .243 Winchester cartridges in the first place).
The biggest downside aside from the price are the windage and elevation turrets, which are adjustable but don't come with clear markings. You'll have to be an experienced hunter to take full advantage of this .243 rifle scope.
Pros:
Quality lens system and light transmission benefits
Made to last with durable exterior and matte finish
Well balanced, even if it's a little heavy
Comes with the perfect fixed magnification range for .243 Winchester cartridges
Cons:
No markings on windage or elevation turrets
Expensive compared to other scopes for .243 Winchester rifles
Summary
The Leupold FX-3 rifle scope is an excellent fixed magnification variety perfect for hunters that want an optic they can slap on their Winchester rifle and rely on for years to come. The excellent lens quality and optic's ease of use will enable you to make the most of your hunting expeditions.
Conclusion
Ultimately, the above scopes form a collection of quality optics ideal for combining with any .243 Winchester rifle. While the perfect magnification range and scope specifics for different hunters will vary, we believe that each of these can be an ideal choice depending on your typical hunting distances and normal activities.
Still have questions? Check out the optics yourself by clicking on the links above or contact us today!