When it comes to sniping, the scope is one of the most important parts of a sniper's arsenal. And it must be carefully chosen by the sniper. There are different kinds of scopes available for different purposes, including long-range hunting, tactical use, and professional use. This article will discuss five brands that are considered to be the best of the best.
What to Look For in a Sniper Scope
To the uninitiated, it's easy to assume that the two primary points snipers should look for in a scope are distance and clarity. While they are certainly important, there are other vital aspects that must be taken into consideration.
Eye Relief
If your scope kicks back around your eye, the anticipation alone won't do you any favors when trying to line up your shot. As such, you want a sniper that offers substantial eye relief. Fortunately, most sniper rifles are designed to produce minimal recoil.
Still, you want to do all that you can to further minimize any existing recoil. So you should look for a sniper scope that provides a good deal of comfort when shooting. To ensure the best results, we recommend an eye relief value of around four inches. However, you can get away with an eye relief value as low as 3.4 inches.
But be warned: anything lower is best avoided.
Superior Lens Quality
You can ensure that your sniper rifle has excellent optics by examining the lens quality. When the lens glass is of the highest quality, light filters through much better. And in turn, your eyes will be able to see images in incredible clarity.
Moreover, lenses that are multi-coated help increase the transmission of light, thereby enhancing your vision. Plus, this coating provides additional protection for the lenses to help combat things like scratches, dirt, and general wear and tear.
High-Quality Turrets
When you're adjusting for your shot, you want turrets that provide audible and tactile feedback. Why? Because such features allow you to make adjustments blindly without having to look at what you're doing. More importantly, you're not forced to take your eyes off the prize.
The best sniper scope turrets let you compensate for elevation and windage. And those that sport a zero-stop feature help improve accessibility.
The Importance of Magnification
Your sniper scope's magnification is key, as it dictates how far you'll be able to shoot accurately. It's important to note that sniper scopes possess a much higher magnification rate than their rifle counterparts.
As such, you need to know what the various strengths are capable of. Examine the table below to better understand different magnification properties and what you can expect from them.
| | | |
| --- | --- | --- |
| 1x to 6x | 6x to 12x | 12x and Up |
| Close- to medium-range | Medium- to long-range | Long-range |
| Ideal for 100 to 500 yards | Ideal for 500 to 1,000 yards | Ideal for 1,200 yards and up |
| Good for plinking and hunting | Good for far-off moving targets | Best for stationary targets |
As your magnification power increases, it becomes harder to hit moving targets. At great distances (1,000+ yards), you should only attempt to hit stationary targets. This is where maximum magnification comes into play.
So consider your primary shooting activities and choose your optics accordingly. If you plan to shoot targets at varying distances (close to long), consider investing in a sniper scope that offers somewhere between 6x and 24x magnification.
The 5 Best Sniper Scopes Reviews
With the above points in mind, let's move on to our top picks for the best sniper rifle scopes. When you choose any of the below entries, you can trust that you're getting a well-researched scope that boasts the features outlined above.
1. Vortex Optics Viper 6-24×50 HS-T SFP Riflescope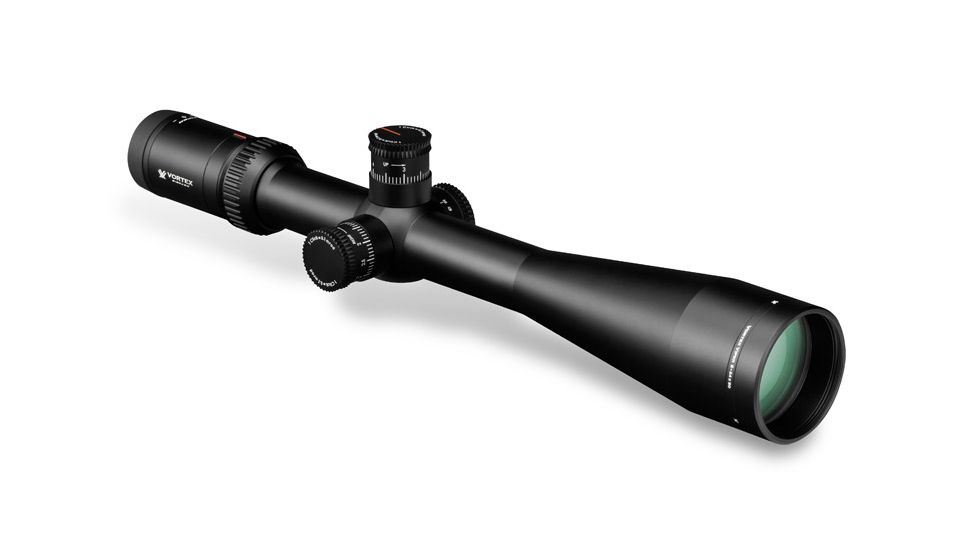 With a purpose built for distance hunting, the Vortex Optics Viper 6-24×50 HS-T SFP riflescope is designed to deliver superior accuracy and performance. Durable, waterproof, and fogproof, it features an adjustable objective and a magnification range of 6x to 24x.
The Vortex Optics Viper 6-24×50 HS-T SFP riflescope also has a new generation of fully multi-coated lenses that deliver maximum light transmission and offer optimal contrast with various light conditions. Also on board is a second focal plane (FFP).
As our top pick for the best sniper rifle scope, we like that the Vortex Optics gives you magnifications between 6x and 24x. This gives you plenty of versatility and will give you the vital edge you need when you hunt. And because of its tough, weatherproof construction, you can confidently take this scope with you in inclement weather without a worry.
And as we just discussed above, the turrets on this sniper scope are precisely what you want. They feature excellent audible feedback, and they boast zero-stop functionality. Some may argue that the tactile feedback is too pronounced. But by and large, these are the kinds of turrets that any sharpshooter should want on their scope.
You don't have to worry about them getting out of whack if you accidentally bump them, either. Like the rest of the scope, the turrets are of the highest quality and ensure optimal performance.
The only potential drawback to the Vortex Optics is that its second focal plane holdover points function at a single magnification setting. Therefore, some users might not find it to be ideal for extremely long distances.
But on the whole, the Vortex Optics delivers a reliable shooting experience. The quality is exceptional, and even the customer service for the scope goes beyond expectation.
Pros:
High-quality construction
Stellar customer service
Fantastic turrets
Superior lenses
Weatherproof
Cons:
Might not be ideal for extremely long distances
Final Verdict
With middle-of-the-road pricing, you're certainly getting your money's worth with the Vortex Optics. The quality is second to none, and it will serve you well in a variety of scenarios. Thanks to the weatherproof construction, you can confidently take this scope out in all kinds of conditions.
And with its versatile 6x to 24x magnification, the Vortex Optics is designed to zero in on targets at close range, medium-range, and even long-range.
2. Athlon Optics Argos BTR Gen 2 6-24x FFP Riflescope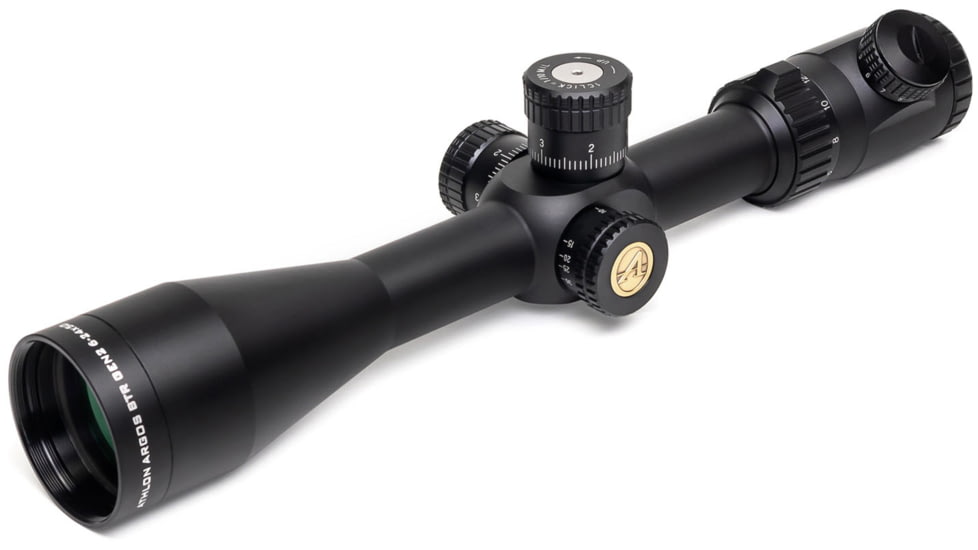 The Athlon Optics Argos BTR Gen 2 FFP 6-24x50mm Scope is a compact, affordable, and rugged rifle scope that offers high-quality optics. It boasts an incredible magnification range of 6x to 24x, the ability to be used with most rifles, and is designed to be lightweight and durable. This product is perfect for the budget-conscious shooter or hunter who needs a dependable scope without spending too much money.
Moreover, the Athlon Optics Argos has a 100% waterproof construction, so you can use it in any weather or situation. The durability of the lens is also impressive, as it will not become foggy or cloudy even when used in rainy conditions.
This scope offers superior optics with good light transmission. This means you'll be able to see your targets better than ever before. The clarity of the glass is remarkable, and even at 24x magnification, you can still clearly see objects in your field of view.
Athlon Optics is a company that prides itself on creating high-quality optics at an affordable price. They offer a range of scopes for any budget or need. For those who are especially budget-conscious, the Athlon Optics Argos BTR Gen 2 FFP 6-24x50mm Scope should be perfect for you.
The Athlon Optics Argos BTR Gen 2 FFP 6-24x50mm Scope offers incredible value for the price. You can get this product for under $400, which is much cheaper than comparable riflescopes. As such, we think it's the best sniper scope for the money.
Pros:
High-quality, zero-stop turrets
Weatherproof construction
Multi-coated lenses
Very well-made
Excellent value
Cons:
Adjusting focus can be difficult
Final Verdict
For anyone on a budget looking for a reliable sniper scope, the Athlon Optics Argos is about as good as it gets. Sure, some people might find its focusing to be harder than typical. But for the price, that's to be expected.
Even with that minor caveat, you're getting a lot for the price. And anyone who plans on sniping targets at various distances will appreciate the versatility and accuracy of the 6x to 24x magnification. With it, the scope can easily handle everything from close- to medium-range to medium- to long-range.
3. Zeiss Conquest V4 6-24x50mm Riflescope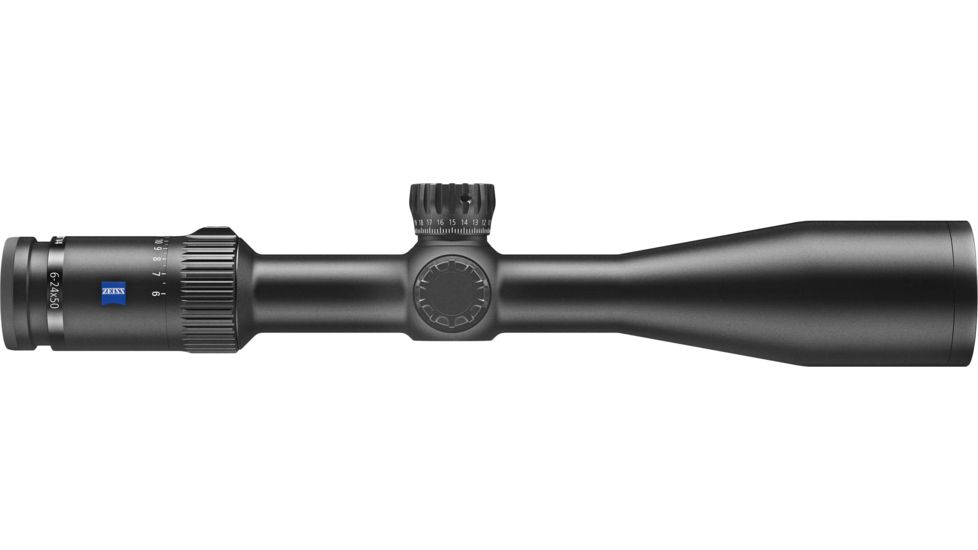 If you're an AR-15 enthusiast, you might want to consider adding a rifle scope to your arsenal. There are a number of factors that should influence your decision on which scope is right for you. The first factor is magnification power.
The next factor is the reticle design. And yes, price is also a big consideration. If you happen to be on a tight budget, the Zeiss Conquest V4 may not be the best choice for you. That's because it's a bit pricey compared to the previous two entries. But with that price comes what we feel is the best AR-15 sniper scope on the market today.
The Conquest V4 riflescope is designed for use in a variety of shooting conditions. These riflescopes feature multi-coated lenses, which reduce glare and increase contrast to provide the clearest view possible. And as a result, you can see your target with ease.
The 4x zoom eyepiece on this scope allows you to quickly find your range without having to reset the magnification every time. We're also big fans of the ballistic turret, which provides a rugged yet functional design.
The Zeiss Conquest V4 riflescopes are prized for their versatility, durability, and accuracy. These scopes have been a go-to choice for hunters and shooting enthusiasts alike. So if you're looking for a high-quality scope that will last a lifetime and is guaranteed to perform well in any condition, the Zeiss Conquest V4 may be worthy of your consideration.
Pros:
Powerful 24x magnification
Water- and fog-proof
Second focal plane
Stellar lens glass
Cons:
Final Verdict
The quality of the glass is about what you would expect from a ~$4,000 scope, making the Zeiss Conquest V4 a solid purchase. While it's the second-most expensive scope that we reviewed, the quality and reliability make it a truly excellent companion to AR-15s.
What's more, the 24x magnification ensures that you'll be hitting targets at long-range. As a result, the Zeiss Conquest V4 will forever change the way you hunt.
4. Burris Xtreme Tactical XTR II 8-40x50mm Precision Riflescope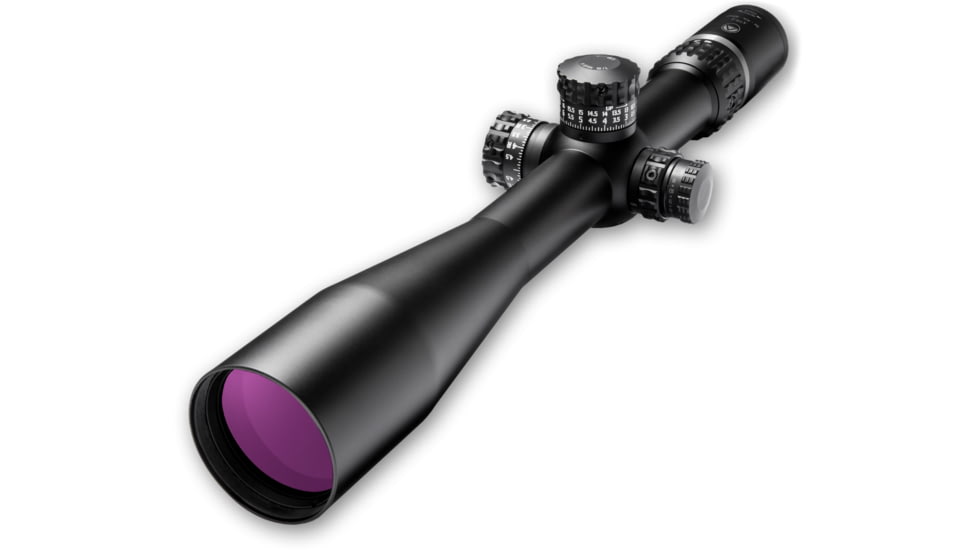 Coming in at number 4 is the best scope for 308 sniper rifles. The Burris Xtreme Tactical XTR II is a high-powered rifle scope with an 8x to 40x 50mm magnification and a reticle that is as bright as a pair of welding goggles. This scope is perfect for those who use their rifles in a variety of situations, but it's also made to be durable and lightweight.
For sharpshooters who need to hit targets from incredible distances, the Burris Xtreme Tactical possesses the power and features to make it possible. Equipped with magnification that ranges from 8x to a staggering 40x, you'll find yourself able to lock onto and nail targets that would otherwise be impossible to hit.
To complement this high level of magnification, the Burris Xtreme Tactical also comes with exceptional lens glass. Thanks to its stellar engineering, targets come in clearly and vividly — just what you need when you are testing your sharpshooting might and trying to hit a target at 1,200 yards.
Even at the highest magnification setting, the crystal-clear glass doesn't miss a beat, treating you to amazing clarity. What's more, the turrets feel very user-friendly, allowing you to adjust them to your heart's content without looking away from your target.
Another must-have feature is the eye relief quality. It's obvious that Burris put a lot of effort in crafting a top-tier sniper scope here, as the comfort level when shooting is right where you need it to be.
Pros:
Impressive 40x magnification
Phenomenal glass quality
Excellent precision
Good eye relief
Cons:
Not ideal for close range
Final Verdict
There's no denying that the Burris Xtreme Tactical is an excellent investment for anyone wanting to step up their sniping game. The price is more than respectable, considering the phenomenal craftsmanship and performance.
And with a magnification range of between 8x and 40x, this scope assists you in hitting targets from both medium-range and long-range.
5. Nightforce NX8 4-32x50mm F1 Scope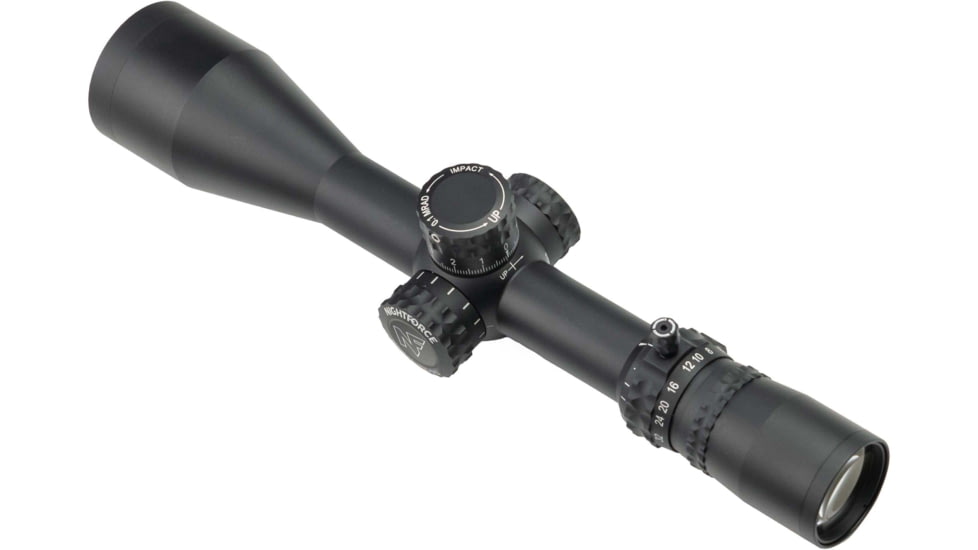 With the Nightforce NX8 4-32x50mm F1 Scope, you'll be able to take your shooting game to the next level. This scope is ideal for hunting and tactical purposes. It's built with a 30mm main tube, and it weighs in at just under 29 ounces.
The magnification ranges from 4x to 32x and sports a 50mm reticle. If you've been searching for a scope that offers superior power, the Nightforce NX8 will make sure you find your target from afar.
In addition, this scope is designed with a matte black finish that makes it easy to maintain after long hours of use. Whether you're a professional hunter or just looking for an upgrade, the Nightforce NX8 will serve you well.
This scope itself is made out of aluminum alloy and is optimized for lifetime performance. The proprietary broadband multi-coating enhances optics to deliver clarity even in low-light settings. As such, it's perfect for a variety of sharpshooting scenarios.
You'll be able to see your target in foggy conditions with the help of the illuminated reticle. Another welcome addition is the .250 MOA click value. The turret has excellent travel and feedback, so you don't have to take your eyes off of your target.
Moreover, the 3.5-inch eye relief offers a comfortable shooting experience. It makes sense that you get a lot with this scope, as it has a pretty expensive ticket. But if you want to ensure that you're getting one of the best sniper scope options on the market, the Nightforce NX8 won't disappoint.
Pros:
Maximum 32x magnification
Optimum glass quality
Highly durable
Lightweight
Cons:
Final Verdict
It might be pricey, but the Nightforce NX8 delivers where it matters most. The durability is off the charts thanks to superior multi-coating, so you can trust that you're investing in a sniper scope that's built to last.
And given its 32x maximum magnification, this scope is ideal for long-range shooting. If you've been holding out for a sniper scope that helps you nail targets from afar, the Nightforce NX8 is right up your alley.
Conclusion
It's important to choose the best sniper scope for your rifle, and this guide will help ensure that you make the most suitable investment. In all honesty, you could probably flip a coin between any of the above entries and be happy with whatever you get — they're all that good.
But in the end, you know what your needs are, so use the information detailed above to assist you in making a sound investment. If you want an all-around solid performer, the Vortex Optics brings a lot to the table.
But if you require maximum magnification power, the Burris Xtreme Tactical has what you need. The other models hold up well, too, though. So don't forget to compare all entries to help you narrow down the right option for your needs.