The .338 Lapua Magnum (also just called the Lapua) is a powerful bottleneck centerfire rifle cartridge, first designed in the 1980s to be used by military snipers. Over the following decades, the .338 Lapua was used both in the Iraq War and the War in Afghanistan; military personnel favored it for its effective range, high penetrative capabilities, and general consistency.
In fact, the .338 Lapua can penetrate most types of military-grade armor up to ranges of 1000 m away or 1090 yards. It also has a maximum effective range of about 1910 yards. In civilian rifles, the .338 Lapua is most suitable for long-range shooting enthusiasts and hunters of big game like Cape Buffalo, elephant, white announcers, and so on (though many experienced hunters will rely on larger caliber cartridges for more certainty of a kill shot).
Regardless, the .338 Lapua is only as effective as the scope you partner it with. A great rifle scope will allow you to maximize the efficacy of this powerful Magnum-style cartridge.
What to Consider When Buying a Scope for .338 Lapua Magnum
Given the .338 Lapua's power and high effective range, there are several major things you should look at when buying a scope for rifles that use this cartridge.
Eye Relief
The first major thing to look at is eye relief. Eye relief measures the distance between your eye and the ocular lens. The more eye relief a scope can provide at maximum magnification, the less likely the scope will buck into your orbital bone when you pull the trigger.
Since the .338 Lapua is a Magnum cartridge, it typically produces quite a bit of recoil, even for experienced shooters or heavier rifles. With that in mind, the more eye relief you can get, the better. We recommend looking for scopes with eye relief values of no less than 3.4 inches or so at the worst. Scopes that offer 4 inches or more of eye relief are even better and will do a better job of protecting your eye from sudden recoil.
Quality Glass Lenses
Next, make sure that any scope you purchase for use with .338 Lapua Magnum cartridges has excellent objective lenses. Lens quality can affect the contrast and detail you'll receive from your sight picture. In other words, they affect the quality of the light that gets filtered through the scope to reach your eye.
The best rifle scopes for .338 Lapua will include multicoated lenses that boost light transmission, as well as protect the lenses themselves from scratches and wear and tear from dirt, debris, and from general use. It may also be worthwhile to look for scopes that feature reticles etched on the lenses, although this is not an absolute necessity.
Top-Tier Turrets
Lastly, try to look for .338 Lapua scopes that feature high-quality windage and elevation turrets. Turrets that offer tactile and audible feedback are superior since you don't have to watch the turrets as you turn them. Furthermore, turrets that can zero stop and reset are easy to use and very user-friendly.
Bottom line: high-quality windage and elevation turrets will let you compensate for these variables when taking your shot at targets very far away.
What Magnification Do You Need Based On Your Shooting Distance?
As mentioned, the .338 Lapua's general maximum effective range at sea level is 1910 yards, assuming good wind conditions and other factors. With this in mind, you can generally expect scopes that magnify up to 20x or so to be suitable for use with a .338 Lapua rifle.
That's because most scopes' magnification values translate at approximately 1x per 100 yards. For example, if you have a 5x rifle scope, you can expect it to be effective up to about 500 yards or so. However, the size of your target and whether it is moving can also affect how much magnification you need based on your shooting distance.
General magnification ranges and their shooting distance suitability is as follows:
1x-6x – close to medium-range
6x-12x – medium to long-range
12x and higher – long-range shooting
As a result, consider where you will be using your .338 Lapua cartridges most often. Do you plan to make the most of this cartridge's maximum effective range and try to hit targets out to 2000 yards away? In that case, the more magnification you can get, the better. Some scopes offer magnification powers of up to 25x or even more, in which case they'll be great picks for sniping targets or hitting animals from quite some distance away.
On the other hand, you may want to use your .338 Lapua cartridges for target shooting at closer distances. For anything sub-1000 yards, a scope that can magnify up to 12x or so will be more than adequate for most shooters. This is doubly true if your target is fairly large, in which case a 6x magnifying scope could be fine.
Remember, these projections are rough estimates rather than ironclad values. The best magnification power for your scope and shooting distance is heavily dependent on your experience level and the other features that comprise a given rifle scope, such as the quality of the lenses, whether the scope can compensate for parallax, etc.
The 5 Best Scopes for .338 Lapua Magnum
Now that you know what to look for in a great scope for .338 Lapua cartridges, let's break down five of the best scopes for .338 Lapua Magnum rifles in more detail.
1. Athlon Optics Argos BTR Gen 2 6-24x FFP Riflescope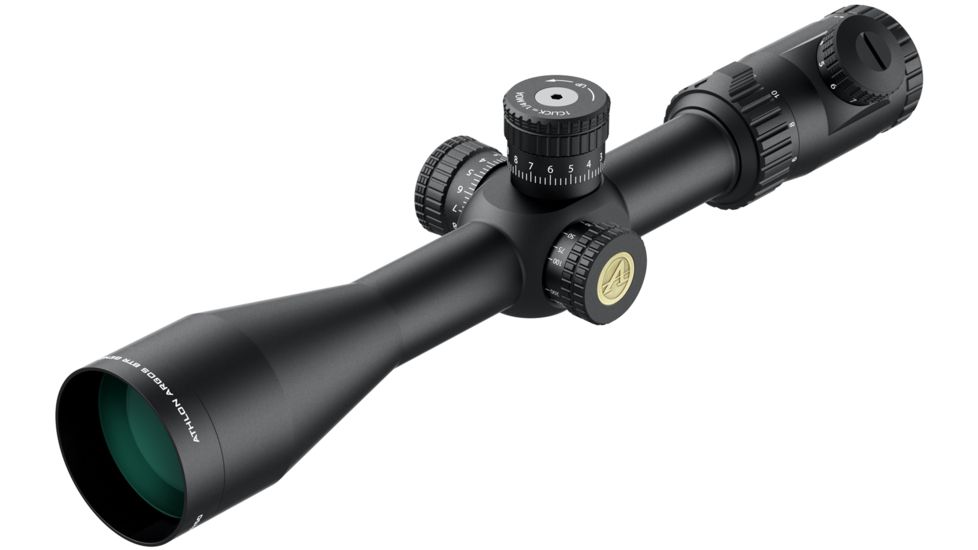 Check Price on Amazon Check Price on OpticsPlanet
Athlon Optics' Argos BTR Gen 2 scope is a fantastic piece to combine with your .338 Lapua rifle. For starters, it can magnify all the way up to 24x, making it great for hitting long-distance targets. At the same time, its minimum magnification is 6x. Therefore, you can use this scope within all of the .338 Lapua cartridge's effective range.
But there's a lot else to like with this hunting scope as well, such as an FFP or first focal plane reticle. The reticle and its hash marks or holdover values will stay valid at all power settings, which is a great feature common to long-range scopes and favored by marksmen or sharpshooters.
Naturally, the scope comes with fully multicoated optics that can boost light transmission and help you hit distant targets with your .338 Lapua cartridges. You'll also really appreciate the precision zero stop system that works with the windage and elevation adjustment turrets. These quality, audible and tactile turrets can easily be locked to a zeroed position, then dialed back whenever necessary. With these turrets, you can adjust for windage and elevation even in lowlight environments.
Of course, the BTR Gen 2 is also fully weatherproof and waterproof, so you can use it in inclement weather or any hunting conditions. The reticle itself is an APMR FFP IR MIL variant, which has an illuminated center cross. As a result, picking out your target even with a dark background should be relatively straightforward.
Pros:
Excellent windage and elevation turrets, plus a zero stop reset system
Good optics and multicoated lenses
Is made with durability and weatherproofing in mind
Good reticle with illuminated center
Cons:
Glass lenses sometimes have problems after lots of use
Final Verdict
All in all, the BTR Gen 2 scope is a decent piece of equipment, at least for its first few months/years of use. Over time, you may see the quality of the lenses degrade, but given the low asking price, this is less of a downside than it would be otherwise.
2. Nightforce SHV 5-20×56 Scope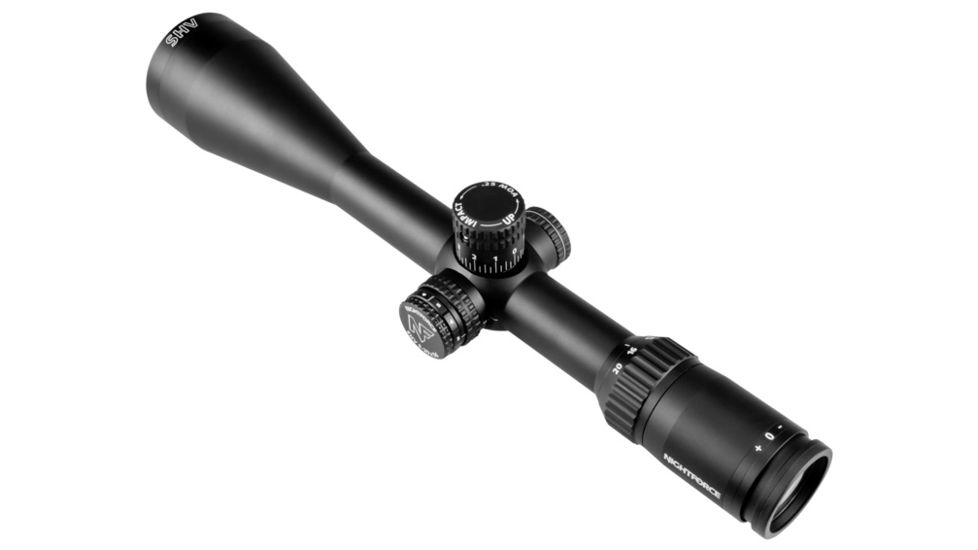 Check Price on Amazon Check Price on OpticsPlanet
The Nightforce SHV Scope is an expensive but very high-quality piece of equipment and is perfect for combining with .338 Lapua magnum cartridges. For starters, it can magnify up to 20x: perfect for hitting shots up to 2000 yards away. It's a powerful scope with up to 80 MOA of elevation adjustment potential, as well as a side parallax adjustment knob.
This is perfect since you'll need to compensate for parallax when shooting at the extreme distances the .338 Lapua cartridge is typically used for. Thankfully, the windage, elevation, and parallax turrets all feature zero reset technology that allows you to quickly return those knobs to zero no matter how many adjustments you might have made.
Also nice are the three reticles available. You have the option to pick a center illuminated reticle with 1 MOA elevation and windage markings, or an analog illuminated reticle that features an extra illumination system. This version of the scope comes with an extra illumination control knob that you can adjust using a small screwdriver.
Or you can go with a partially illuminated reticle that stays brightly lit at all times. Either way, this versatility and customization are excellent to see. Lastly, the additional inclusions with the scope are nice given its high asking price. Each purchase comes with rubber lens covers, some tools to adjust the above-mentioned illumination control knob, and a cleaning fob and cloth.
Pros:
Comes with some extras in the purchase
Has three reticles to choose from
Great lens and a quality
Very high-quality materials and super durable
Cons:
Very expensive compared to other scopes
The illumination knob can't be turned with your fingers alone
Final Verdict
This pricey rifle scope could be a great pick for combining with your .338 Lapua rifle if price is no object and you want something that can provide fantastic value and long-lasting performance for distance shooting.
3. Leupold VX-5HD 3-15×44 Riflescope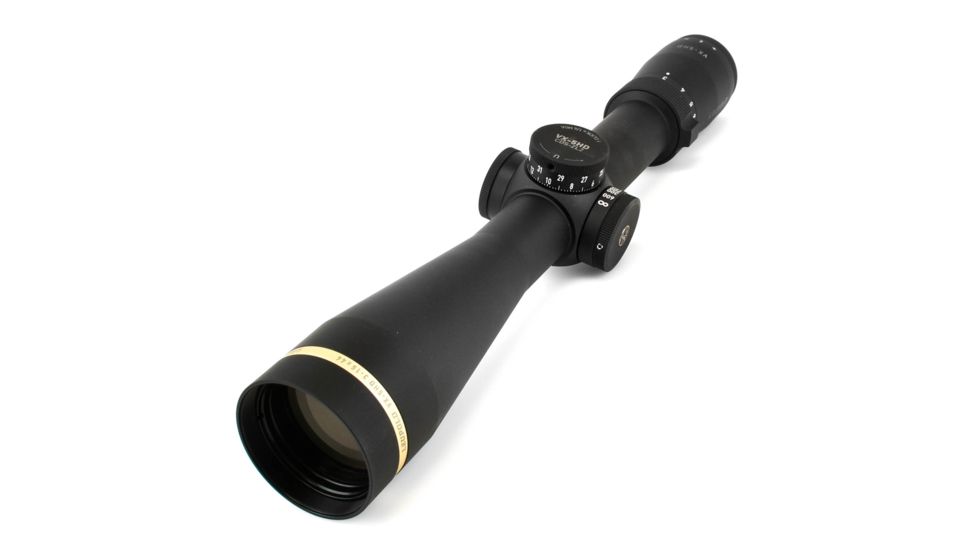 Check Price on Amazon Check Price on OpticsPlanet
Leupold's VX-5HD rifle scope is a very popular model in the industry, which is reflected in its high asking price. It weighs 2 pounds and can magnify up to 15x, making it great for hitting targets up to 1000 yards away and above. In other words, it matches with the effective range of your .338 Lapua cartridges.
But it also features good windage and elevation adjustment turrets, which is not usually a major advantage with Leupold scopes. These pop-up and zero-able windage and elevation dials offer tactile feedback with every turn, making them easy to use without looking at them or in lowlight environments.
Also included with your purchase is a set of lens covers to protect the ocular and optical lenses from regular wear and tear. More importantly, both lenses are bolstered by Guard-ion coatings. These help to progressively shed dirt, fingerprints, and water from the lens surfaces, ensuring long-term functionality.
This rugged scope features a very basic reticle as well as Leupold's proprietary Twilight Max Light Management System. In a nutshell, this system should grant you up to 10 extra minutes of shooting light at the beginning and end of every day.
Pros:
Grants extra shooting light during dusk and dawn
Very good quality turrets and lenses
Lenses have a special coating
Cons:
A little expensive compared to other scopes
Final Verdict
This Leupold .338 Lapua scope is an expensive but very worthwhile optic that should be of particular use to hunters who primarily shoot during dusk and dawn.
4. Vortex Optics Viper 6-24×50 HS-T SFP Riflescope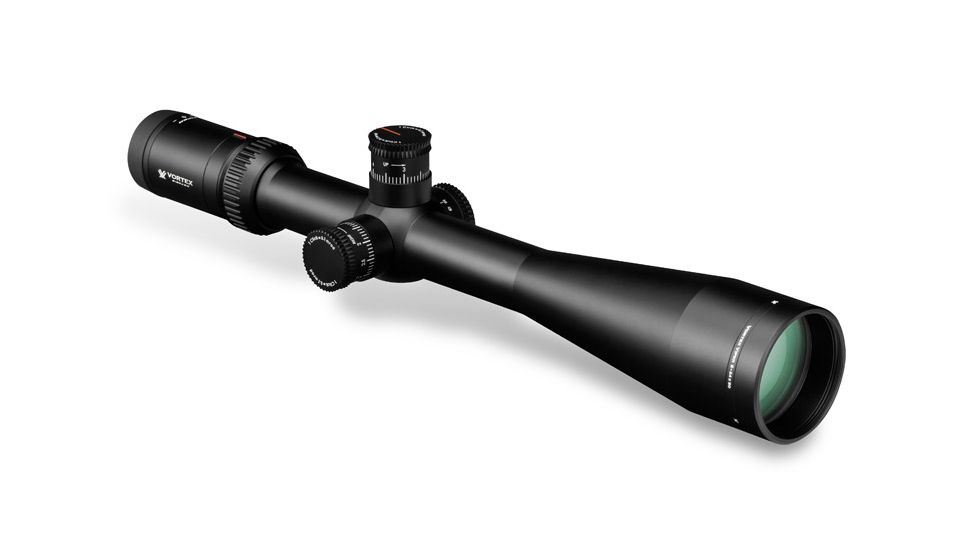 Check Price on Amazon Check Price on OpticsPlanet
Vortex Optics' Viper HS-T scope can magnify up to 24x, so it's a good partner with .338 Lapua cartridges and rifles. However, it features a second focal plane or FFP reticle, meaning that its holdover points are only mathematically valid at one magnification setting. Keep this in mind when choosing this scope, as it may not be suitable for hitting ultra-long-distance targets.
Aside from this aspect, the scope has a number of important features, like multicoated lenses featuring Armortek and XR coatings to boost light transmission and improve lens durability. The turrets are also relatively high quality, though they are a little tall. They click audibly with every turn and they come with a zero stop system for fast resetting to zero after making adjustments.
The scope overall is argon purged and is totally weatherproof, so it should work perfectly well even in inclement weather. You also have the option to choose between a VRM-1 MOA or MRAD optic, which features different holdover points and estimate values depending on your preferences. This extra level of customization is quite nice for hunters or marksmen that may prefer one style or the other.
Pros:
Has two different reticles to choose from
Made with durable and weatherproof materials
Have audible and zero reset adjustment turrets
Good lens quality and coatings
Cons:
Has second focal plane reticle, which may not be ideal for long-distance sharpshooting
Turrets are a little tall, so you may bump them by accident
Final Verdict
All in all, this optic from Vortex is neither too pricey nor too cheap and has a number of excellent qualities that could make it the best .338 Lapua optic, including quality lenses and excellent turrets.
5. Trijicon TR23 AccuPoint 5-20×50 Riflescope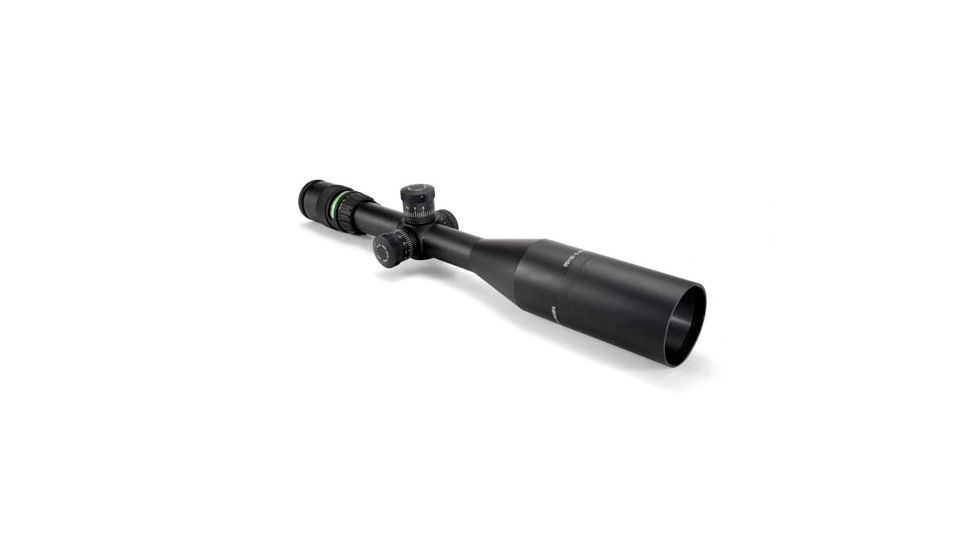 Check Price on Amazon Check Price on OpticsPlanet
Trijicon's TR23 AccuPoint rifle scope can magnify up to 20x, and it features a whopping 50 mm objective lens. As a result, this optic will collect plenty of shooting light to use with your .338 Lapua cartridges at long distances, such as over 1000 yards. It may even be the best long range scope for .338 Lapua rifles overall.
Even better, this optic features an advanced fiber-optic and tritium lamp aiming point. This illumination system automatically adjusts its vibrancy based on ambient light conditions. For sharpshooters that need to hit targets some distance away against dark backgrounds, such a feature could be a lifesaver.
The rest of the lenses are also well-designed, featuring multiple coatings to reduce distortion and improve light transmission. Remember, since the illumination system uses fiberoptics and tritium lamps, there are no batteries to worry about.
However, this optic does come with a second focal plane reticle, so keep in mind should you decide to purchase this scope. The body of the scope is made with aircraft-grade aluminum, which allows the scope to stay under 2 pounds yet boast excellent durability for many years to come. Eye relief ranges between 3.8 and 4.1 inches, so you'll never need to worry about the scope bucking into your eye after taking a shot.
Pros:
Has a reticle with an illuminated center with no need for batteries
Very well designed and durable body
Good lens quality and coatings
Excellent eye relief values
Cons:
The reticle is on the second focal plane
Turrets are quite high, so they may be bumped
Final Verdict
Ultimately, the TR23 AccuPoint scope is an innovative and well-designed optic that's perfect for pairing with .338 Lapua cartridges due to its long effective range, high eye relief, and unique illumination system that doesn't batteries.
Conclusion
In the end, any of the above five scopes could be a great pairing for your .338 Lapua rifle depending on its weight, balance, and your experience level. We recommend diving into each of the above scopes in more detail before making your final decision to ensure that you purchase the ideal optic for your unique needs. Good hunting!