When it comes to shooting, optics are everything. You can have a great handle on your firearm, but if you're not using the right optic, you're going to be less effective with it. After all, that's why optics were invented, right?
One of the most popular rifles to ever be produced is the Mini 14. If you've got this scaled down version of the M14, you're going to want the right scope for it. While it's capable of hitting targets up to 150 yards away without a scope, having the right optic can increase that distance. It can also ensure that you hit your mark with every shot. Let's look at the 5 best scopes for the Mini 14!
A Little Bit About the Mini 14
The Ruger Mini 14 is a scaled down version of the M14, and is an excellent alternative to the AR-15. It performs similarly, and has many similarities with this other iconic rifle.
The Mini 14 is chambered in 5.56 ammunition, and can hit distances up to 150 yards away without a scope. Add a competent optic, and that increases to 350 yards, sometimes more. However, you're not going to be shooting the Mini 14 at distances that far in most cases Typically, this rifle is used at the following distances:
Close Range – Less than 100 yards
Medium Range – 100 yards to 350 yards
Long Range – 350 yards or more
For the most part, the Mini 14 is going to excel at medium range shooting. Activities like varmint shooting are right up the Mini 14's alley. In fact, a variation of the Mini 14 bears the title "Ranch Rifle."
How to Pick a Scope for Your Mini 14
If you're having trouble picking an optic for your Mini 14, there are a number of things that you can do to narrow things down. Let's take a look at these below.
Step 1: Pick a Discipline
What are you going to be using your rifle for? Is it meant for self-defense or close quarters combat? Are you going to be picking off predators that threaten your livestock? Or are you just out for a good time to hit targets from a distance?
Once you can narrow down what you're using your rifle for, you can gauge what distances you're going to be covering. This is going to tell you what kind of magnification you need, and whether or not you need the optic to be fixed or variable.
Step 2: Choose Your Magnification Based on Range
When you're choosing your ideal scope, you can choose the optic's magnification accordingly. For the most part, the following magnification ranges are going to be suitable for each range:
Close Range – 1-4x, with fixed or variable power depending on preference
Medium Range – 2-9x covers nearly all distances between 100 yards and 350 yards with ease
Long Range – 10x or more is needed for shooting at 350 yards effectively
Step 3: Choosing Between Fixed and Variable Magnification
This is really going to depend on the way that you like to use your rifle. Most people like having the flexibility of a variable powered scope, allowing them to zero in on targets at longer ranges a bit more easily.
If you're using your Mini 14 for a variety of different applications, kind of like an all around rifle, you'll want to pick up a variable powered scope. This is going to let you change your magnification on the fly, making the rifle useful in any number of situations. Don't be caught with your pants down because your target is too far or too close for a fixed magnification. Adaptation makes a big difference in many shooting scenarios.
Step 4: Pick Your Reticle Accordingly
Picking a reticle takes more than just choosing the pattern you'd like to see. The first thing you have to consider is the focal plane on which the reticle is placed. You're going to have two options:
First Focal Plane (FFP) – The first focal plane is the optical plane furthest from the shooter's eye. As the magnification of a scope is changed, a reticle on the first focal plane changes in size, as well. This is most commonly seen in long distance scopes. When a reticle is on the first focal plane, all markings, either in MOA or Mil, are the same no matter the power of the magnification being used.
Second Focal Plane (SFP) – The second focal plane is the optical plane closer to the shooter's eye. A reticle placed on the second focal plane stays the same size regardless of the magnification being used. This makes the reticle easier to see, but the MOA or Mil markings are only accurate at the highest magnification. As magnification decreases, the distance between markings increases. This can make shooting difficult when you're relying on these markings. However, if you're only shooting at close range or mid-range, it's not normally a problem.
After you've decided what focal plane you want your reticle to be on, it's time to worry about the pattern of the reticle. Traditional reticles are standard crosses, with MOA or Mil markings to help you accommodate for different shooting conditions. However, there are other options available. Be sure to check some of the reticles available, depending on what you like to see while shooting.
Step 5: Make Sure You Have the Proper Scope Mounts
Now that you've found your ideal scope, make sure that you get the right mounts for your optic of choice and your Mini 14. This is really dependent upon the magnification range. Some will need offset so that all of the scope's functions work properly. Make sure you do your research on mounts, too!
The 5 Best Scopes for the Ruger Mini 14
1. Bushnell 3-9×40 Riflescope with DZ 223 Reticle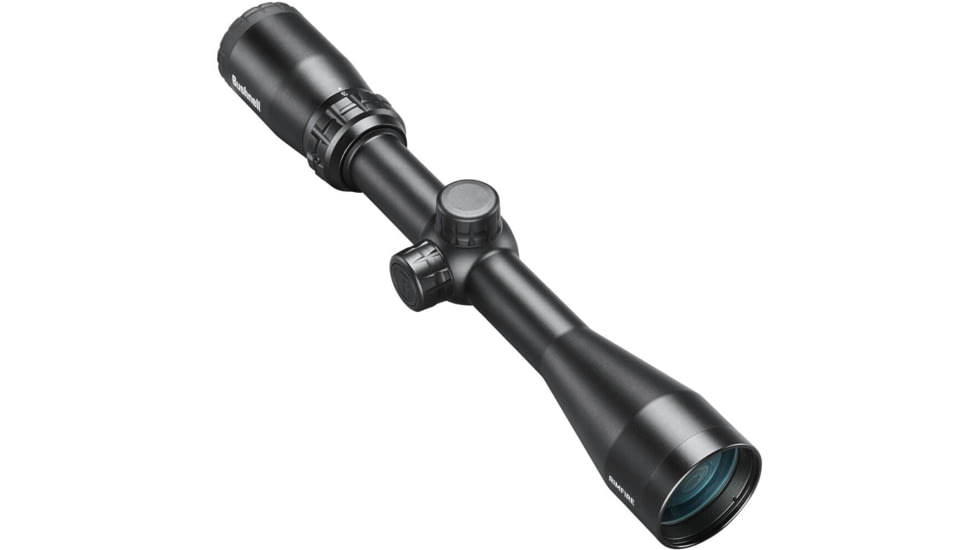 If you want a scope that can cover most distances up to 350 yards, the Bushnell 3-9×40 Riflescope is going to do the job well. While the market is flooded with comparable mid-range scopes, this one stands out among the competitors. It contains all of the features that you need, and nothing you don't. It's the best scope for the Mini 14 Ranch Rifle, by far.
The real draw to this scope is the high build quality. All materials used are durable, and will last as long as your rifle does. It's waterproof, as well, meaning you can take it with you in just about any conditions. The optics in the Bushnell 3-9×40 Riflescope are some of the brightest, multi-coated options available on the market. This is going to allow for greater clarity while shooting.
The reticle on this scope is on the second focal plane, making it ideal for mid-range shooting. This does mean that some math will be necessary when you're changing the magnification to anything lower than 9x. Keep that in mind if you find yourself at magnifications lower than the max.
Pros
Excellent build quality
IPX7 waterproofing, meaning it'll go anywhere
Second focal plane, meaning the reticle stays the same size
Bright optics, allowing for better clarity
Cons
On the heavier side, which some may not like
Reticle is not illuminated, meaning it's only able to be used during the day
No side focus, only vertical
Final Thoughts
This is the best scope for your money, hands down. This is especially true if you're looking to take on varmint or game at medium range distances, since the magnification ranges from 3x to 9x. The 40mm lens diameter is generous, as well, making seeing through the scope easy. If you need the best medium range all-around scope for your Mini 14, this is the one for you.
2. Sightmark Core TX Riflescope AR 223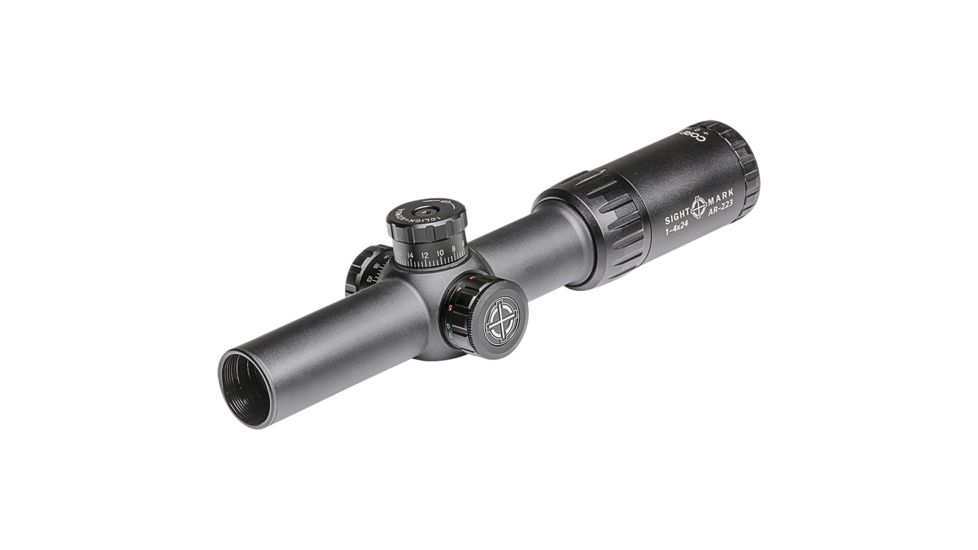 Second on our list we've got the Sightmark Core TX Riflescope. This scope comes in a number of different variations, many of which some with the same features. However, the best scope for the Ruger Mini 14 is the 1-4×24 version, by far. That's the version of the scope that we'll be talking about for the rest of this article, and the version you should buy for a Mini 14.
With a magnification of 1-4x, you're really looking at this for close range shooting. While it can touch lightly on the medium range spectrum, it is best at close ranges, up to about 100 yards. All of the adjustable knobs are large and exposed, making adjustments easy on the fly.
The build quality of this scope is still exceptional, but in comparison to the number one pick, it's a bit cheaper feeling. That being said, the scope comes with flip up lens covers, as well as thumbscrew 30mm rings. The reticle is illuminated, in either green or red, making shooting into the evening easier. During daylight hours, the illumination isn't necessary, as it's clear when looking through the optic.
Pros
Illuminated reticle positioned on the second focal plane
Lightweight and durable
Provided flip up lens covers
No fogging when transitioning to different temperatures, despite lack of weather sealing
Cons
Smaller lens than other options
Not weather sealed
Reticle thins out at the center, making it hard to see without illumination in some cases
Final Thoughts
If you're a close range shooter, rarely ever shooting over 100 yards, then you're going to find this to be the best scope for the Mini 14. It's got just enough power at the high end, reaching a magnification of 4x. This makes targets at 100 yards easy to hit. Anything under that is manageable, too, with the range starting at a true 1x.
3. Bushnell AR Optics, 1-4×24 Drop Zone Optics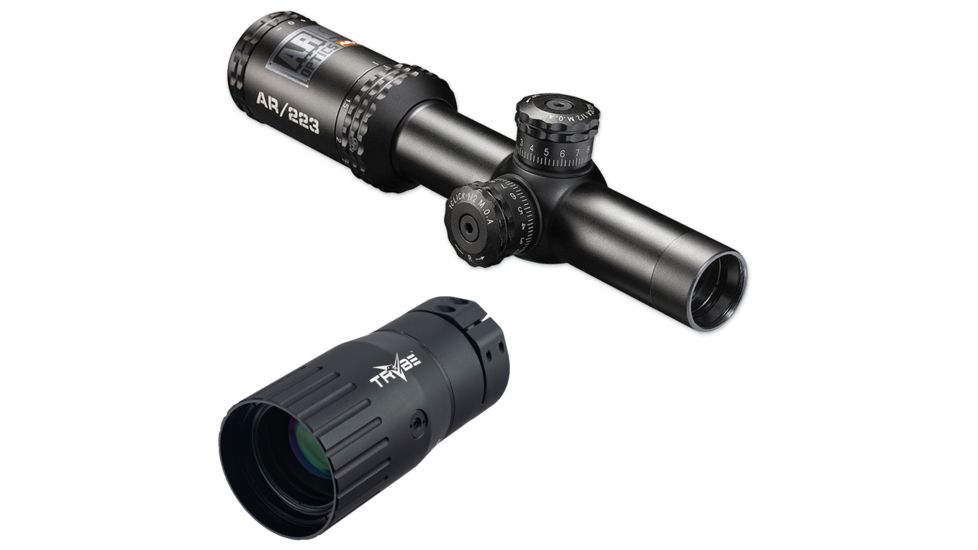 For our third optic on the list we've got another excellent close range option. The Bushnell AR Optics 1-4×24 is a great choice for any close range shooter. The clarity on the scope is some of the best we've ever seen, and looking through it doesn't feel like looking through an optic at all. This is due to the excellent coatings that Bushnell offers for their lenses.
Like the other Bushnell scope on our list, this one is built tough. It's going to stand up against any use and abuse you can throw at it, making it an excellent option for anyone who is particularly tough on their gear. It's waterproof, shockproof, and comes with fully coated optics.
The reticle is excellent, and is located on the second focal plane. It's always going to be in clear view, thanks to the anti-reflective coatings on the glass that houses it. It has ballistics drop compensation built in, as well, making it particularly useful. When it comes to close-range shooting, the clarity of the glass combined with the reticle make it a real winner.
Pros
Tougher than most scopes available, being waterproof and shockproof
Glass is coated with Bushnell's excellent coatings, making it clear
High quality materials to match the tough qualities
6 levels of reticle illumination
Cons
Only good for close range shooting
Turrets don't click into place, making adjustments difficult on the fly
Heavy, weighing over a pound
Final Thoughts
For the most part, this optic is ideal for close range shooters who are particularly rough on their gear. It's durable, waterproof, and shockproof. However, this comes with its disadvantages, too. The scope weighs 18 ounces, making it a heavy close range optic. Keep this in mind if you're on the move. Regardless, it is the best scope for the Mini 14 Tactical by far.
4. BSA Optics Sweet 223 AO 4-12X40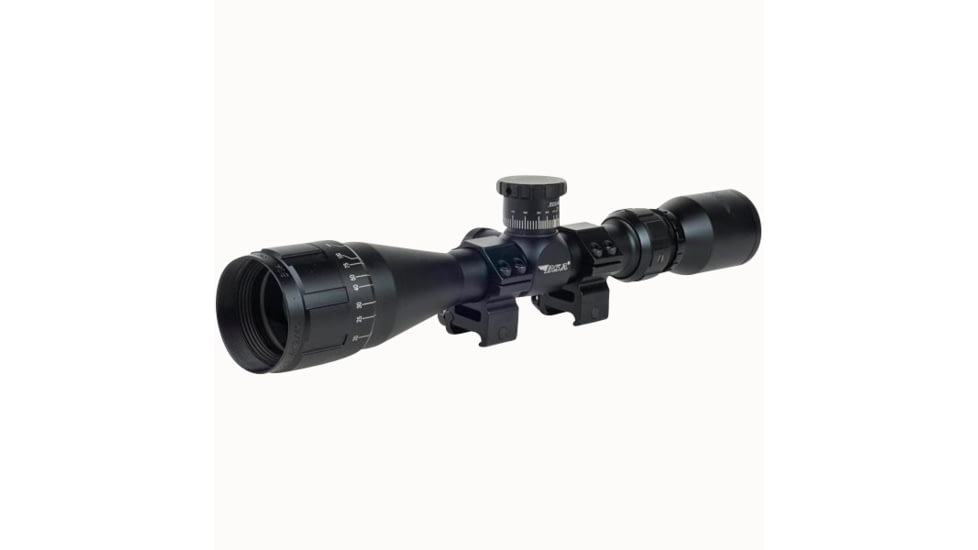 Let's talk about value and BSA Optics. The BSA Optics Sweet 223 AO 4-12×40 brings value to the table, being under $100. Now, you'd think that would bring the quality down, but you'd be wrong. See, with the way that technology has advanced, so have the processes for making quality optics. BSA reduces the price point on their scopes without compromising the features they pack into them.
The Sweet 223 AO 4-12×40 is an excellent riflescope for those who dabble in medium to long range shooting. With magnification starting at 4x but with a maximum at 12x, shooting distances over 350 yards are possible, making this ideal for people who like to shoot from afar. The scope itself is shockproof, waterproof, and fogproof, meaning it's going to stand up to the elements when you take it out.
The glass in the optic is fully coated, providing great clarity. However, the reticle is lacking. It is positioned on the second focal plane, which makes it tough to use at higher distances. It also lacks any markings for MOA or Mil, making it best for medium range, though it can handle long range from time to time.
Pros
Second focal plane reticle
Able to shoot at distances over 350 yards
Weather resistance, with shockproof, waterproof, and fogproof ratings
Very affordable
Cons
Reticle lacks the necessary markings for long range shooting
Adjustments are not smooth, and feel somewhat forced
Provided mounts are lacking, and third-party mounts will likely be necessary
Heavy, weighing in at 22 ounces
Final Thoughts
The BSA Optics Sweet 223 is a decent all around scope. However, it's an excellent choice considering the low price point. It's best used for medium range shooting, but can accomplish long range shooting with a maximum magnification of 12x. It's also going to last forever, being durable and resistant to nearly all types of weather and conditions.
5. Hawke Vantage 30 WA 3-9×42 223/308 Scope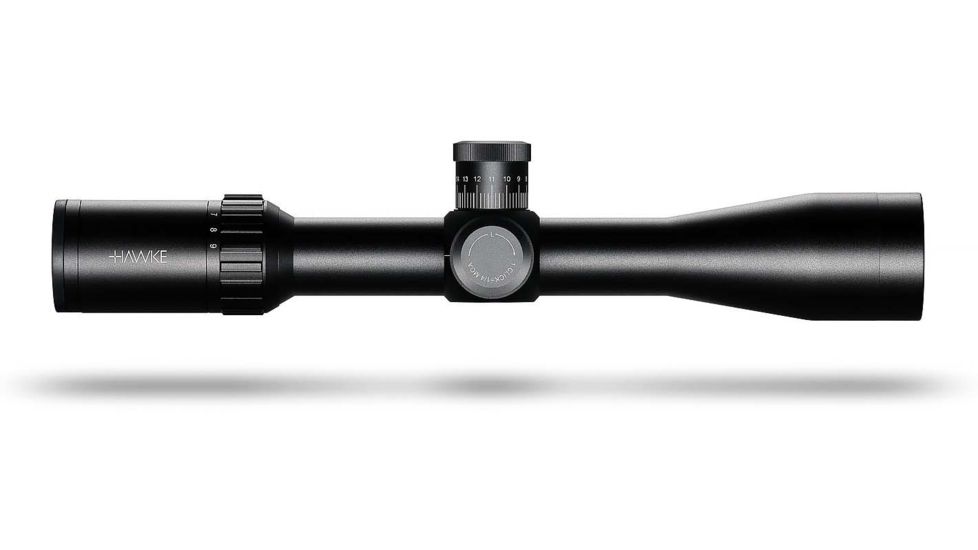 Last on our list we have the Hawke Vantage 3-9×42 riflescope. When it comes to medium range AR scopes, this is a popular choice, making it perfect for the Mini 14. The scope is calibrated for both .223 and .308, making it versatile in its use. The reticle is specialized for this, with markings for distance compensation. Markings are in increments of 100 yards, starting at 100 and going up to 600 yards out. This allows the scope to be useful in both medium range and long range scenarios.
The reticle itself is illuminated in red or green, making it very easy to see your target when you're looking down the sights. The glass is coated in 11 layers, enhancing image clarity and quality. It's also fully waterproof, fogproof, and shockproof, meaning that you'll never have an obscured image when you're using it.
Now, it should be mentioned that this scope is beefy. It weighs in at over 2 pounds, making it the heaviest scope on our list. Durability comes at a price, and that price is often weight.
Pros
Illuminated reticle with ballistic drop compensation
Magnification covers most ranges the Mini 14 can handle
Shockproof, fogproof, and waterproof
Backed by a lifetime warranty
Cons
Pricier than other options on our list
The heaviest scope on our list
No MOA or Mil markings on the reticle itself
Final Thoughts
When you want quality, you're going to pay a bit more. That's what can be expected of the Hawke Vantage 3-9×42 riflescope. It's best for medium range and long range shooting, since it has ballistic drop compensation for up to 600 yards out. It weighs more than any other scope on our list though, making it tiring to carry for too long, though.