When searching for a new scope for your rifle, you need to keep a few things in mind. Firstly, you need to know you are getting a scope that is well-made and meant to last. Secondly, you need to make sure that you are receiving a scope that will be suitable for the sort of shooting you are interested in. Finally, you need to place some value in the price of the scope you are buying. Simply put, no one wants to buy a scope that is far too expensive for the features it is providing. In other words, is it really worth it?
Cheapest Isn't Always Best
It's tempting to believe that the cheapest choice is the best option in such a large market with so many competing companies. Unfortunately, this is not the case.
You've definitely heard the tired phrase "you get what you pay for," particularly when it comes to purchasing a rifle scope. If you're familiar with scopes, you'll know that many high-quality scopes may be found in the same price range as many entry-level guns. When first-time purchasers purchase their first rifle, many misjudge the cost of a good sight and go for the less expensive one, only to have to repair it eventually.
Low-cost rifle scopes are often low-cost due to the use of lower-cost materials and/or labor, which eventually results in a loss of quality and durability in a rifle sight. That's not to mention the fact that you may not hit anything at all with some of the less expensive scopes since they lack consistent precision.
What's A Rifle Scope?
A rifle scope merely magnifies your vision, allowing you to see more clearly and enhance your accuracy. The purpose of a scope is to allow you to fire farther while maintaining accuracy.
You'll see some kind of graphic visual pattern while gazing through a scope. That's referred to as a reticle, and it's your aiming point. What you need to know is that a rifle scope is an optical sighting device with a reticle that allows you to see beyond.
What Do You Need In A Scope?
Magnification
If you want to utilize a scope on your hunting rifle, you must first pick where and what you will hunt. A traditional, fixed 4x or variable 3-9x scope was typical among many basic hunting rifles a few decades ago. These lower magnification riflescopes were ideal for shots under 100 yards, which are common for anything from pigs and deer to coyotes. Candidates for a "all-around" scope today should have lower magnification levels as well, but with a 4:1 zoom ratio (2.5-10) or larger.
Eye Relief
After shooting your pistol, you don't want to acquire a bruised eye. Do you know how when you bring a scope up to your eye level and the ocular lens is separated from your eye? That's what we are talking about when we say "eye relief."
While most scopes have roughly four inches of eye relief, lower-quality scopes only have three to five inches, which is a fairly limited eye distance for higher-recoiling rifles. In order to prevent "scope-eye" owners of powerful rifles must have a larger eye-relief.
Turrets
The turrets on the top and right of your sight are the windage and elevation knobs. The main function of a turret is to perform windage as well as elevation adjustments. They're in charge of your scope's horizontal (windage) and vertical (elevation) adjustments. When purchasing a scope, go for one that has audible and dependable turrets. Turrets that fail in the middle of your search are the last thing you want. Because various riflescopes serve different objectives, there are numerous distinct kinds of turrets. Standard ballistic turrets with adjustments generally tied to the distance you are shooting in yards should be your first choice when purchasing a rifle sight. These non-tactical versions generally feature 1/4″ or 1/8″ adjustments in inches.
The 5 Best Scopes Under $500
Without further ado, here are some of the best scopes under $500 that provide the sort of quality and accuracy you need with your scope.
1. Vortex Optics Crossfire II Adjustable Objective, Second Focal Plane, 30mm Tube Riflescopes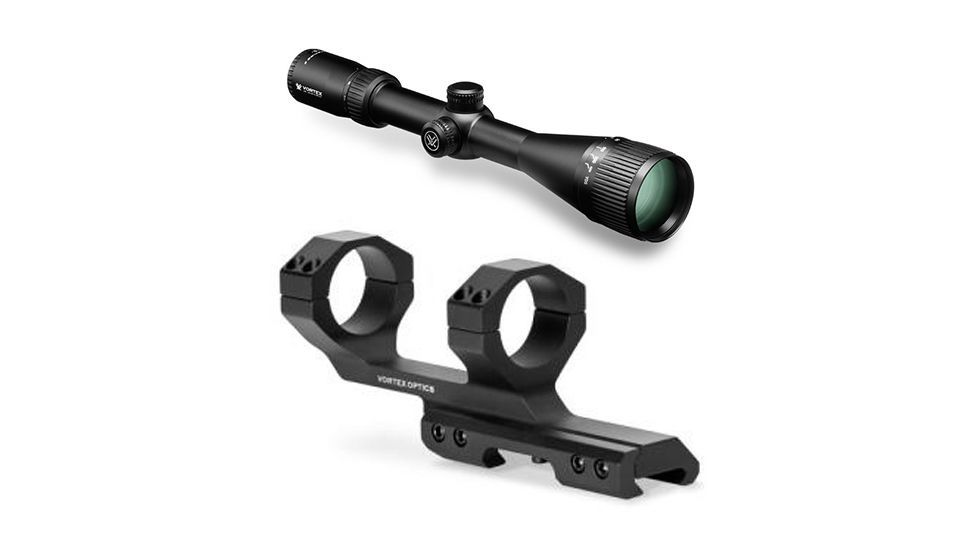 Vortex's Crossfire II is an entry-level scope that costs less than $500. Despite the fact that the Crossfire II is not a high-end rifle sight price-wise, it is one of Vortex's most popular budget rifle scopes. And it's likely to work well on a range rifle and in a variety of hunting situations. Its value comes from that low price point with that large variety of uses and ranges, making it a terrific entry-level scope for shooters.
The popularity of this model is most likely due to a mix of features, power range choices, and, yes, its agreeable pricing. This is a multi-purpose scope series aimed for hunters, general shooters, and long-range shooters and pretty much anyone who would need a scope. Because the original Crossfire series that came before had several difficulties, the Crossfire II is the second-generation series of Crossfire models. Vortex rapidly addressed the problems by releasing the updated Crossfire II series, which replaced the original Crossfire series.
Almost every circumstance is covered by the Vortex Crossfire II range of scopes. They are Vortex's entry-level scopes, which are inexpensive yet have high-quality design and materials.
When it comes to construction, this scope is small but mighty. The primary tube is one inch in diameter, which is standard for scopes in that price range. Other scopes in this series, as previously stated, include a 30mm tube. To avoid glare and light reflection, the primary tube has been hard anodized in a matte black finish.
The Vortex Crossfire II range of scopes strikes an excellent balance between price and functionality. With so many various scopes in this family, you'll be able to pick the perfect hunting optic for you.
The overall quality is excellent. The scopes are durable and maintain zero even when recoil is high. The optics are excellent, yet you should keep in mind that higher-end scopes have better glass quality.
Pros:
Lifetime transferrable warranty
Affordable pricing for the value you receive
Fixes the problems that came with its predecessors
BDC and illuminated reticle option
Cons:
Light transmission does not work well in low light
Turrets don't track well
High magnification isn't ideal with the glass
Conclusion:
Vortex Crossfire 2 scopes are a fantastic option. They're intended to be your all-around scope for short, medium, and long range shooting. For the amount you pay, all of the models give outstanding value. You will undoubtedly get a scope that is well worth your money.
2. Athlon Optics Argos BTR GEN2 6-24X50 First Focal Plane Riflescopes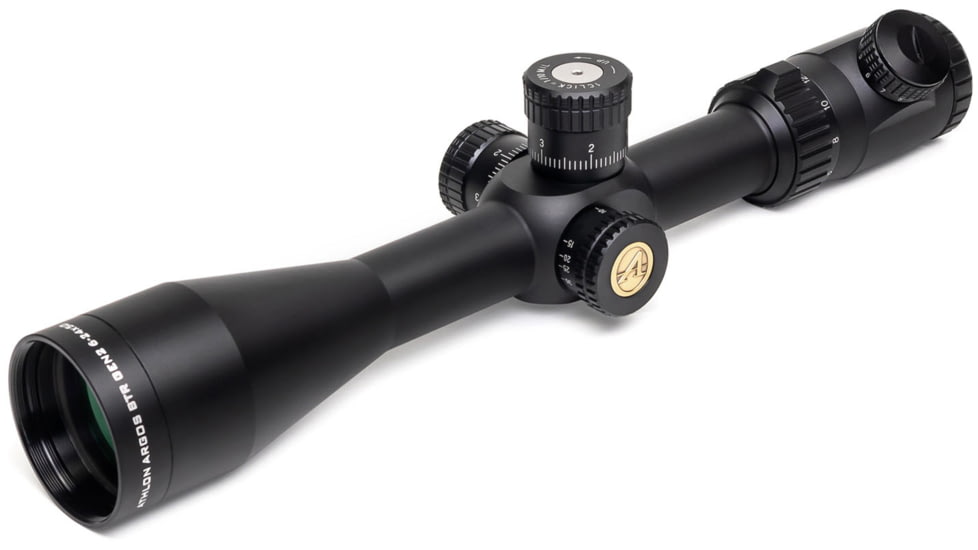 The Athlon Optics Argos BTR GEN2 provides a whole lot of value for not a whole lot of price. In fact, it's so impressive that you may think you are getting the deal of the century when you pay for it.
Let's start with the scope's zoom feature because it provides a lot. Up to around 16x, the picture is clean and distortion-free. There is a perceptible but not terrible drop-off in focus from there to around 20x. The eyebox almost vanishes at 20x, and the clarity drops dramatically.
That's not to say you can't use the scope at higher magnifications than 20x, but shooters must maintain a precise eye position with a solid cheek weld. This isn't an issue for a one-time hunting shot, but you wouldn't want to spend a whole day in a PRS match with this scope at high mag settings.
The scope is quite long-lasting. It's made of the same 6061-T6 Aircraft Grade Aluminum that Nightforce use. It's also nitrogen purged and O-ring sealed.
The scope is entirely waterproof, fogproof, and shockproof as a result of this. Athlon Optics also put an XPL coating on the lens. This keeps dirt, grease, sand, and oil off of it.
The scope's 6x – 24x magnification works very well and gives you a lot of variety. While the scope's field of vision is a little busy, it's still easy to use and functional as well.
Pros:
You get a lot of bang for your buck at this price point, it has many high-end features that more expensive scopes don't have.
Durable body and strong build with superior materials
11 brightness settings
Lifetime transferrable warranty
Cons:
Loss of clarity at higher magnifications
Eye relief is only 3.3 inches
You need accurate eye position because of the small eyebox
Conclusion:
The durable build of the scope feels strong and ready to be taken into any conditions or elements without expected wear and tear. With so many great features such as being waterproof and fog and shockproof and high-quality aluminum construction, this is the sort of scope that feels like it should cost a lot more than it does.
3. Leupold VX-Freedom 4-12x40mm Riflescope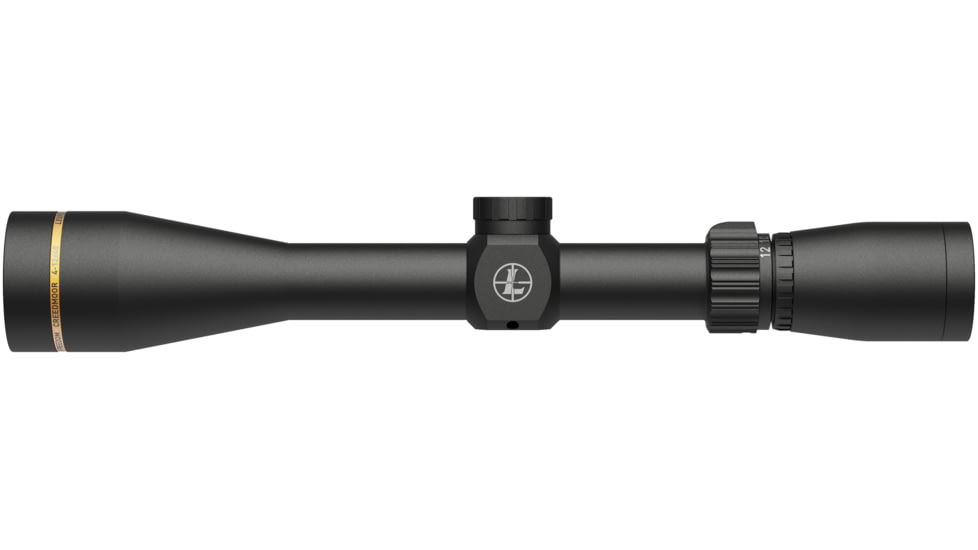 The Leupold VX-Freedom includes advanced features that make many forms of long-range shooting more accurate and pleasurable, and it's suitable for almost any shot. With its lighted reticle, you may achieve amazing precision that was previously unachievable. The value comes with the durable glass and the incredible magnification features that beat just about any other scope on the market.
The actual magnification of the Leupold VX-R 4-12x40mm Matte Riflescope is 4x to 12x, which is higher than many other riflescopes in its price range. This makes it an excellent choice for long-range shooting excursions.
Its resolution is about as excellent as it gets, allowing you to discern all of the objects in your field of vision. At 100 yards, you get a 21.5-foot field of vision with this riflescope. When you're combing the range for your target, this comes in useful.
When it comes to optical coatings, the Leupold VX-R 4-12x40mm riflescope has a slew of game-changing improvements. The riflescope contains lead-free glass and a diamond coat lens coating for environmental reasons.
This makes it incredibly scratch and break resistant no matter where you are using it. It also has index-matched lenses with darkened edges.
Even in full daylight, the Leupold FireDot lights a dot in the midst of your target, making it a genuine game-changer. The lighted reticle provides pinpoint accuracy, ensuring you'll almost never miss your target again. The blinking that indicates when you've reached maximum or lowest brightness is also useful.
Pros:
Able to be used in broad daylight with clarity and ease
Illuminated reticle enhances your accuracy
Lead-free glass and diamond coated lens coating
Cons:
High price point, even though you get a lot of great features with the scope
Conclusion:
The main drawback to this riflescope is its high price, but excellent things seldom come cheap, so it's a worthwhile investment. Besides, with this price you get a scope that is waterproof, fog proof, shock proof and made with high quality aircraft aluminum and American-made greatness.
4. Burris Scout Scope, Compact and Slim Optic with Medium Magnification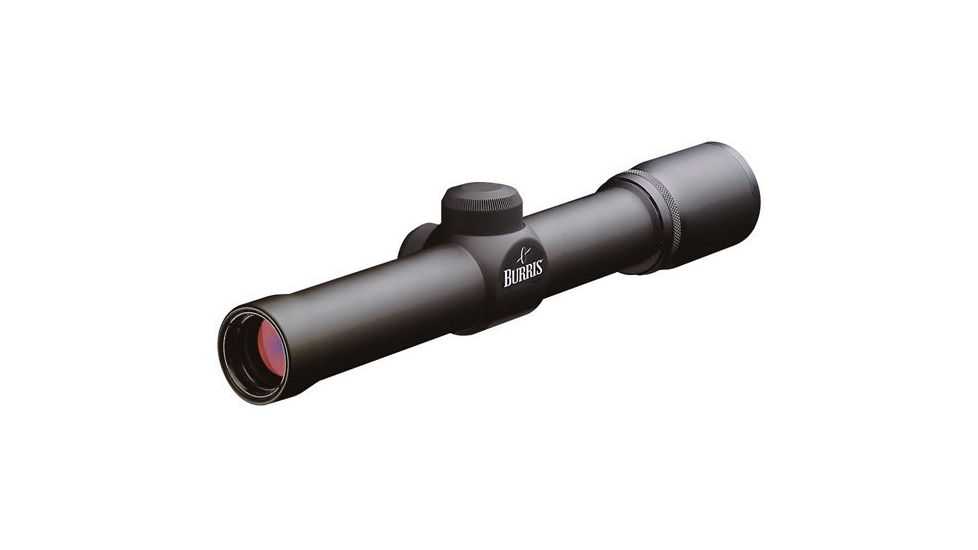 Burris is an underappreciated scout scope brand. It's worth remembering, however, that they were one of the earliest makers on the scene, literally inventing them.
The Burris Scout Scope is ideal as a scout scope, with a magnification range of 2x-7x and a 32mm objective lens. The magnification adjustment knob is recessed. Longer shots are also made simpler with the BDC reticle. 
This scope has a low profile due to its small diameter, making it simpler to maneuver. Because of the high-quality, index-matched, multi-coated glass, the lenses are sharp and bright, allowing for excellent pictures. The 1-inch tube of this scope is nitrogen-purged, making it fog-proof, waterproof, and resistant to even severe temperature fluctuations. Under recall, the scope will not shift modifications. Because it has been tested for exceptionally severe recoil, this Burris model has received a shockproof designation, thus 7.62x54R users won't have any issues.
The turrets on this particular scope are all precision-fitted steel-on-steel. To lock, just press to turn and then release with an audible click. The optic will not lose its zero if it is jostled or accidently bumped. The large eye box makes it simple to align, target acquisition is simple with a crisp image, and magnification is useful.
Because of its minimalist form, the Ballistic Plex reticle is straightforward and easy to use. Its trajectory compensation up to 500 yards enables for accuracy, making it an ideal mid-range scope.
Pros:
It's a low-profile scope and able to be used easily in just about any range or location
Durable and strong and made with superior materials
Very precise accuracy
A fairly large and generous eyebox
Cons:
Lack of any quick focus feature
Conclusion:
This scope will cost you a bit more money, but it is well worth it if you can afford it. We believe the clarity and durability are well worth the investment. It also has the Burris Forever Warranty, which passes to a future owner if you sell it. Burris is recognized for providing outstanding customer service. This is most likely the finest variable power scope for an M1A scout.
5. Bushnell Engage Riflescope, Matte Black, 30mm Tube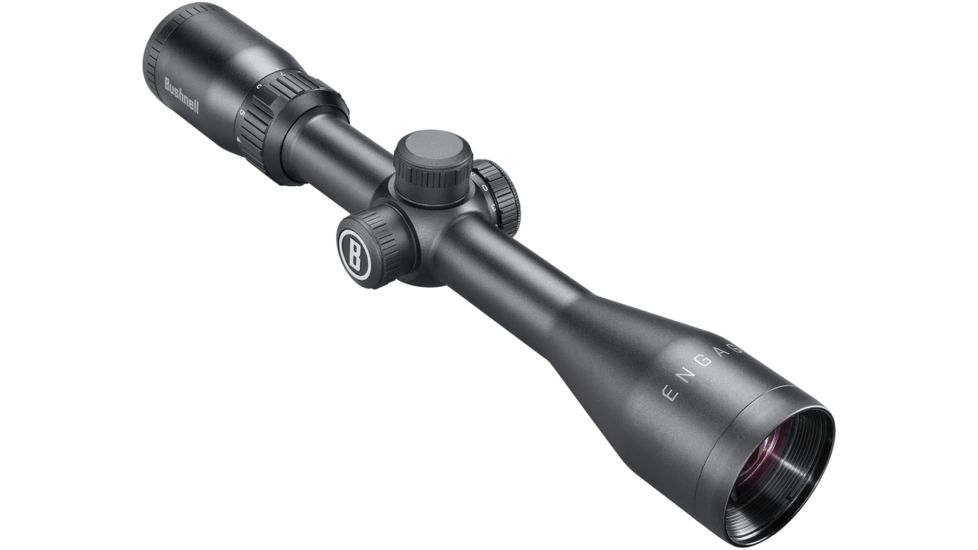 With a sleek and traditional black matte design, the Bushnell Engage is a great mid-range riflescope. In fact, it' s one of the greatest scopes in the 100-400 yard range for the money.
You may, for example, use this site and fire hundreds of precise rounds without losing zero. The Deploy MOA Reticle, which is intended for adaptability at any caliber, and the EXO Barrier, which protects the exterior glass from water, fog, smudges, dirt, and debris, are also patented features that you can only find with this Bushnell creation.
Locking turrets provide endurance by keeping the scope on zero no matter how hard you bump or drop it, and a tool-less zero reset allows you to swiftly reengage your target. The Engage has a side-parallax adjustment and completely multi-coated lenses that deliver excellent clarity and are among the finest optics in their price category.
The Engage, like many scopes in its class, has a rugged construction and an unique ceiling that ensures waterproof and fog-proof functioning. The scope's finish is a fashionable black matte, which eliminates the scope's possibilities of accidently flashing or dazzling in the sun, which may give away your location to your target.
In terms of both practicality and aesthetics, this also provides some limited scratch prevention. After the first time you take a scope on a hunting trip, the shinier, glossier scopes frequently look horrible. Matte scopes seem younger and more well-maintained for much longer.
It also has an accurate reticle that does not obscure your target vision. On the range or in the field, the Bushnell Engage riflescope will provide you with exceptional value and accuracy.
Pros:
Comforting and soothing eye relief
Windage and elevations control are clearly marked
Easily zeroed
Waterproof
Cons:
Might take some time to adjust to the eye relief
It will be a bit heavy for some users
Conclusion
Without a question, the Engage's main selling point is the lens system's exceptional light transmission and durability. Of course, its wide variety of magnification powers helps, and all of these features combine to make it one of the most versatile variable riflescopes available today. This scope will appeal to the majority of hunters and target shooters searching for a long-range scope.