The .223 Remington is a bottleneck and rimless rifle cartridge developed in 1957. Originally intended for use by the U.S. Army, it is now one of the most popular hunting and general target shooting cartridges in the world, particularly for both manual action and semiautomatic rifles.
As the precursor to the 5.56 NATO cartridge, the .223 Remington is versatile, has excellent range and stopping power, but doesn't produce as much recoil as some of its higher caliber counterparts. With this in mind, let's break down the scopes you should check out to use with your .223 Remington rifle now.
What to Consider When Buying a Scope for .223
Since there are dozens of appropriate scope models to choose from, you need to know what to look for in an ideal optic for your .223 Remington. Let us break down what you should look for in detail.
Good Eye Relief
You'll definitely want to target a .223 rifle scope that has good eye relief. Eye relief is a measurement of how much space you can place between your eye and the ocular lens of your rifle scope. The more eye relief a scope has, the less likely the scope is of bumping into your orbital bone and causing a bruise or break.
Fortunately, the .223 Remington doesn't produce too much recoil for most experienced shooters to handle. So you only need eye relief up to about 3 inches or so for a rifle scope to be worth your time.
Weatherproofing
Naturally, you'll also want to look for a rifle scope that has plenty of weatherproofing and durability. Weatherproof scopes are usually nitrogen purged and can work in wet or foggy conditions.
Also look for a scope that is primarily made of aircraft-grade aluminum or similar materials. Aircraft-grade aluminum is lightweight but durable and will ensure that your scope should last a long time to come, even under significant wear and tear.
Exceptional Reticle and Light Transmission
Lastly, try to find a rifle scope with lenses featuring special coatings that can boost light transmission and optical clarity. Scopes that have specialized reticles, such as BDC or bullet drop compensating reticles, can also be great choices if you want to maximize the range of your .223 Remington cartridges and hit targets beyond 600 yards.
FFP or SFP – Your Choice
The .223 Remington is one of those rare cartridges that operates fine at relatively close to mid-ranges and at long ranges if you pair it with an excellent optic. First focal plane or FFP rifle scopes are better for hitting long-range shots, as the reticles will adjust their sizes and holdover values based on your zoom factor.
SFP or second focal plane rifle scopes are the opposite. They are better for short to medium-range shooting since the reticle is sized and calibrated for one of the optic's set magnification values (it usually says which setting on the box).
Which is best? It depends on your preference and your skill with both reticle types. In our opinion, the .223 Remington is best paired with a second focal plane rifle scope in most circumstances as you won't typically use it to hit targets out to 1000 yards away or so.
But you can still find excellent optics with first focal plane reticles. You just have to be able to use the scope accurately to make the most of this feature.
What Magnification Do You Need for a .223 Scope?
You'll also want to consider what magnification powers a scope has to offer before making a purchase. The .223 Remington cartridge is traditionally effective at ranges of up to about 600 yards or so, with most hunters or target shooters operating within the 400-yard to 600-yard range.
While you can extend its effective accuracy a little higher based on your personal skill and the type of rifle you use, you won't typically be hitting targets out to 1000 yards with the .223 Remington.
When it comes to rifle scopes, each level of magnification roughly translates to another 100 yards or so of effective range or zoom factor. Therefore, optics with magnification levels up to about 6x are ideal, although you can find excellent optics that go even higher to really maximize the cartridge's efficacy.
It all depends on what you want to hunt and what you want to use your .223 Remington for. Longer distance shooters will prefer scopes that can go up to about 9x or so, whereas shorter range or tactical shooters, or individuals who just need their .223 Remington to hit varmints on their property, will be fine so long as the optic comes up to about 5x or 6x or so.
The 5 Best Scopes for .223 Remington
While there are dozens of good scopes to choose from, the below five models are particularly well-suited for .223 Remington rifles.
1. 

Bushnell 3-9×40 Riflescope with DZ 223 Reticle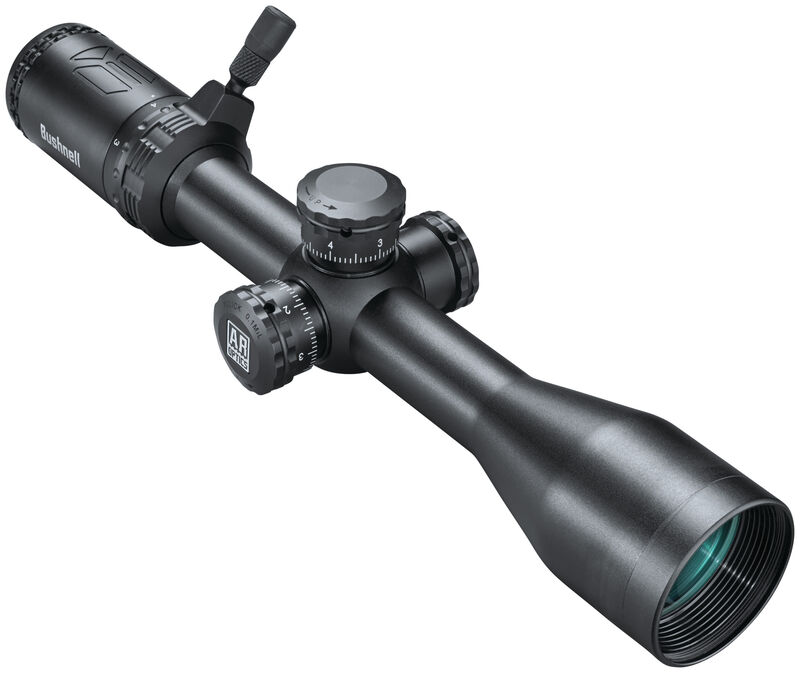 Bushnell's medium-range optic is perfect for most .223 Remington users. Take a look at its effective magnification ranges, which go between 3x and 9x at powers of three. It also features a reasonable 40 mm objective lens, which should allow it to collect plenty of light for any target shooting or hunting needs you might have.
Even better, this optic comes with a ballistic drop compensation reticle. As a result, you'll easily be able to hit your targets up to 600 yards and even beyond. The multicoated optics of the objective lens are tailored specifically for boosted light transmission, greater optical clarity, and even better color contrast.
Want to swap settings in a pinch? This optic lets you do that with a specialized, adjustable-length throw lever. As a result, you'll be able to quickly swap between magnification settings even if you wear thick gloves (as such, it's ideal for wintertime hunting when things can get quite cold).
Naturally, the optic is totally waterproof and can be used in any weather. It should retain its functionality even after extended use. Lastly, we also want to mention how excellent this optic is for its price. You'll be able to pick one of these up even if you don't have a big budget for outfitting your .223 Remington rifle.
Pros:
Very affordable compared to other optics
Has excellent lenses for light transmission
Comes with a good reticle and magnification range for .223 Remington rifles
Magnification ranges can be swapped quickly and easily with an adjustable throw lever
Cons:
Turrets aren't as great on this optic as they are with other .223 Remington scopes
Summary
Ultimately, this .223 Remington rifle scope is a solid choice for shooters on a budget or for hunters who need something versatile and easy-to-use without tons of gimmicks or bells and whistles. It could also be one of the best scopes for .223 bolt action rifles due to its durability.
2. Trijicon ACOG 4×32 Scope w/ Illuminated Red Crosshair .223 Ballistic Reticle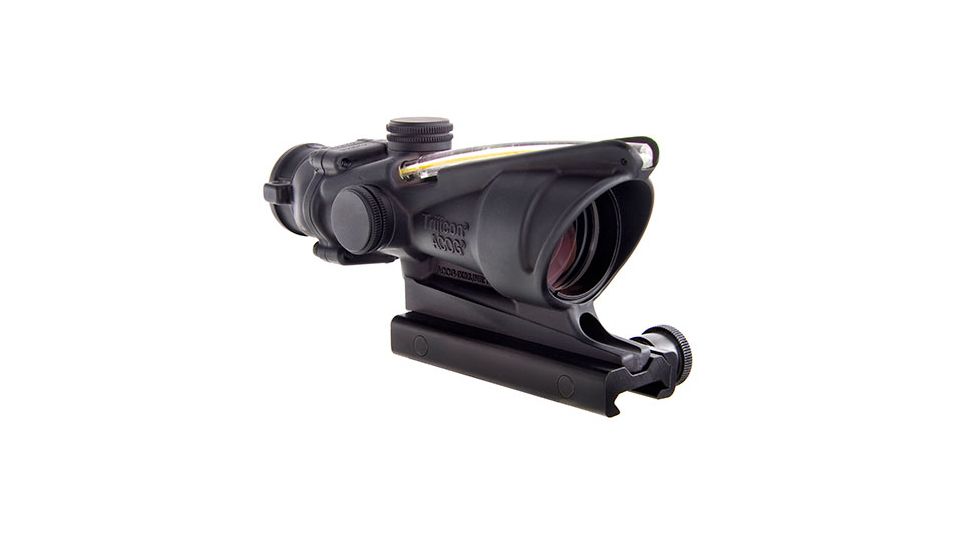 Check Price on Amazon Check Price on OpticsPlanet
Trijicon's ACOG 4×32 scope is a fixed magnification optic that can only magnify up to 4x. You can't decrease this, either. As a result, it's a very easy-to-use optic and is a perfect fit for .223 Remington users who primarily use their rifles up to about 400 yards or so.
Naturally, this does limit its use for short-range engagements. That being said, it's one of the best varmint scopes for .223 rifles, for property defense, or even for fun target shooting. The reticle is illuminated and features a horseshoe design. This will take a little getting used to, especially if you are more used to the typical "X and Y axis" reticle style. The reticle is also battery-free, so you don't have to worry about purchasing new ones from time to time.
Still, there's a lot to like with this optic. The above-mentioned reticle can be chosen in colors like amber or gold, red, or even green depending on your preferences. There is a big downside in that it only offers 1.5 inches of eye relief, which is a little low for our liking. But the optic is very lightweight, as it only weighs 9.9 ounces since it is made of forged aluminum.
It's also waterproof and is resistant to shocks and damage, so it should last for a long time to come even with heavy use. A matte finish ensures that it won't give away your position during a hunt. Perhaps most importantly, this optic utilizes a specialized BAC or Bindon Aiming Concept. This lets you use both eyes when aiming, which could result in better accuracy at medium-range distances.
Pros:
Has an excellent reticle for relatively medium-range shooting
Comes built to last with a durable coating and well-designed parts
Lenses have antireflective coatings
Reticle doesn't use a battery
Can use both eyes when aiming down this optic
Cons:
The eye relief is a little low
Can't swap between different magnification ranges
Quite expensive
Summary
The Trijicon ACOG rifle scope is a perfect choice for .223 Remington users for its versatility, durability, and overall appropriateness for mid-range engagements. The illuminated reticle and other features will make it well worth it admittedly high asking price.
3. Vortex Diamondback 1.75-5×32 Riflescope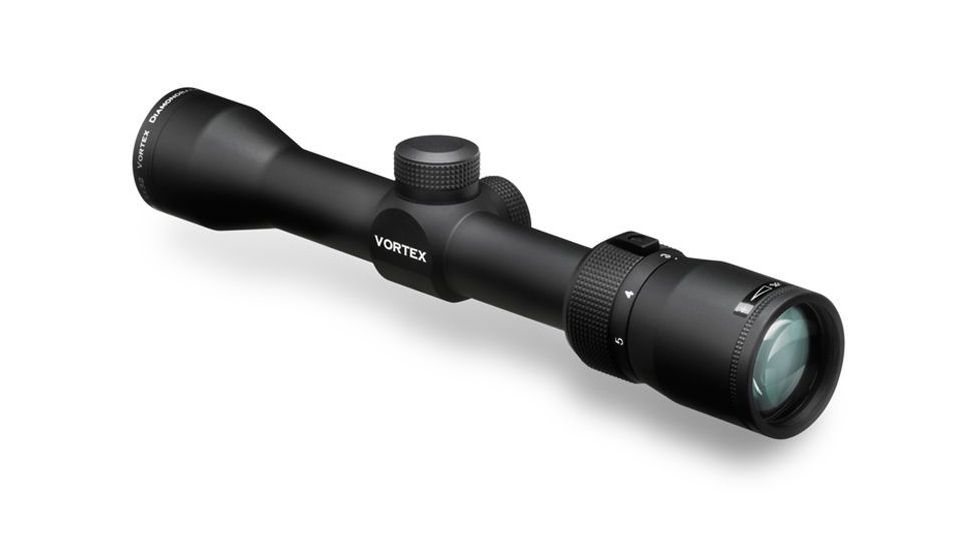 Check Price on Amazon Check Price on OpticsPlanet
The Vortex Diamondback 1.75-5x is one of the best Vortex scopes for .223 Remington rifles, bar none. It features a 32 mm objective lens, which is a little smaller than most other options but is still worthwhile for relatively close-range shooting. This pairs nicely with the available magnification ranges, which go from the short-range 1.75x up to a medium-range 5x magnification power, which is appropriate for shooting up to 500 yards or so.
The scope has a second focal plane reticle and it only weighs 12.8 ounces, so it's not too heavy for most users' comfort. It also features a hard-anodized finish, which will increase its durability and longevity for years to come. This is a great thing if you are on a budget, as this rifle scope is relatively cheap compared to the competition.
Also nice are the pop-up dials that allow you to precisely adjust for both windage and elevation. These make audible clicks with each adjustment, so you don't have to take your eye off the target when making setting adjustments. Naturally, this scope is totally weatherproof and is ideal for hunting in any inclement weather.
Eye relief ranges from 3.5 to 3.7 inches, which is excellent for handling the middling recoil the .223 Remington cartridge produces. The reticle is also a dead hold BDC type, so hitting targets up to 500 yards should be very manageable with enough experience.
Pros:
Very affordable
Has good eye relief
Excellent reticle design
Ideal for short to mid-range shooting
Very durable
Cons:
Isn't the best for long-range shooting
Summary
The biggest takeaways from this optic are its affordability and general ease of use. It doesn't have one major feature that makes it stand out from the rest, but is instead a catchall "good enough" optic that should serve most .223 Remington users who like to use this cartridge below its maximum 600-yard range.
4.

Nikon P-Tactical .223 3-9×40 Matte BDC600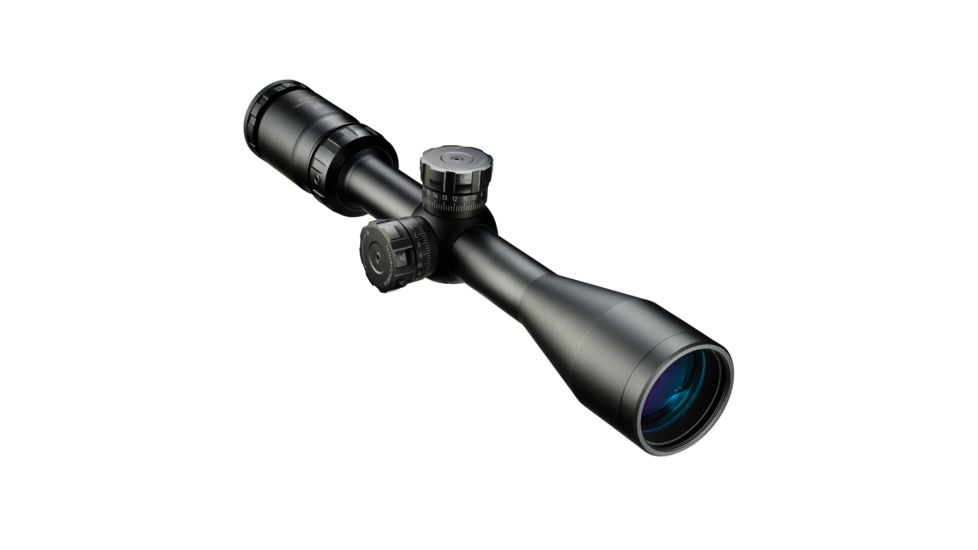 Nikon's P-Tactical rifle scope is designed to make the most of the .223 Remington cartridge. With magnification powers ranging from 3x to 9x, and combined with a 40 mm objective lens, you'll easily be able to hit targets from between 100 and 600 yards.
This is especially true since the specialized BDC 600 reticle has uniquely designed open circle aiming points. These allow you to compensate for bullet drop and to accurately estimate windage and elevation up to 600 yards: the typical maximum range for .223 Remington cartridges.
Also included are a pair of spring-loaded instant zero-reset turrets for both windage and elevation. These turrets can quickly be reset to zero to allow for faster compensating for these variables and more user-friendliness.
The scope is a little heavy compared to the competition at 16.9 ounces, but it does feature multicoated optics to provide bright sight pictures. It also utilizes a quick focus eyepiece, which should help you acquire your target rapidly. Combine this with an AR-15 – it's easily one of the best .223 scopes for AR platforms on the market.
Pros:
Has a specialized reticle for hitting targets up to 600 yards away
Good windage and elevation turrets with zero reset feature
Has fast-focus eyepiece for quick target acquisition
Multicoated optics and generally durable build ensure long-lasting performance
Cons:
A little heavy compared to other optics
Summary
All in all, the P-Tactical rifle scope is a rugged but versatile optic and is ideal for those who like to shoot at all effective ranges for the .222 Remington cartridge, either at distances as low as 100 yards or as far as 600 yards. You might consider combining it with an AR platform thanks to its versatility and such a weapon's overall stability.
5. 

Sig Sauer Romeo5 1x20mm Compact 2 Moa Red Dot Sight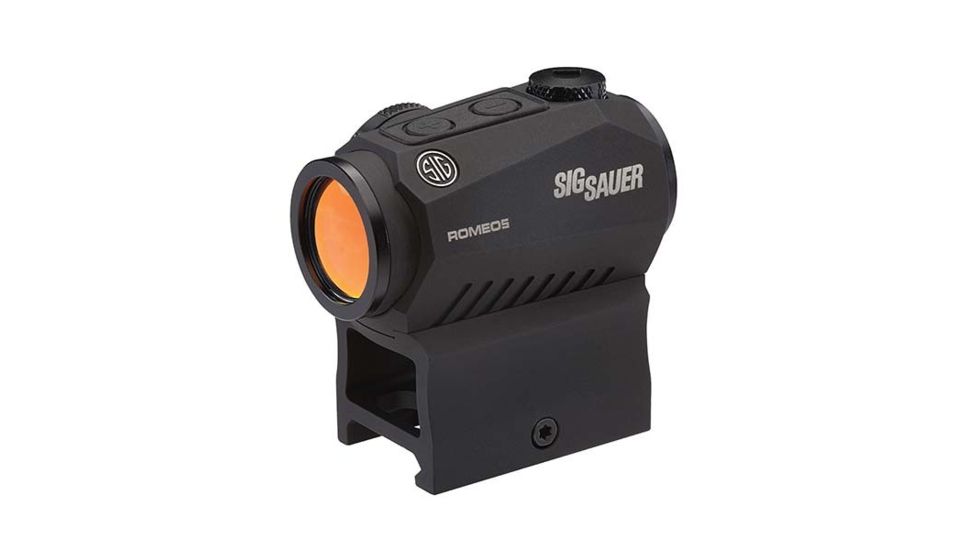 Check Price on Amazon Check Price on OpticsPlanet
This relatively short-range tactical scope is ideal for long-range or even midrange shooting. But it is an ideal choice if you want to use your .223 Remington rifle for urban combat or short-range hunting purposes.
As you can see, it's a fixed optic without magnification. Instead, it's a tactical scope featuring a 2 MOA red dot reticle with 10 illumination settings. Each of these is suitable for bright daylight conditions, making it a perfect choice if you need an optic that can improve your accuracy even at high noon.
Furthermore, the scope is bolstered by an MOTAC or Motion Activated Illumination feature. This automatically powers up the illuminated reticle whenever it senses your rifle is in motion. The battery, while not indefinite, does provide 40,000 hours of life.
The scope overall is totally waterproof and weatherproof, so feel free to take it into inclement weather. It's also quick to mount on your .223 Remington rifle, featuring a Picatinny loan mount riser. We also like that you can co-witness this sight with iron sights if you so choose.
Pros:
Very easy to mount on your rifle
Tough and built to last
Has lots of illumination settings
Will automatically light the reticle up when you move
Cons:
Summary
Overall, this close-range tactical optic is a better choice if you use your .223 Remington for military simulation engagements or for general property defense. It's not at all something you can rely on for actual hunting or target shooting use. But it could be one of the best coyote scopes for .223 Remington rifles, depending on how close they get.
Conclusion
In the end, any of the above optics could be an excellent choice for your .223 Remington rifle. It all depends on what exactly you need, what your budget level is, and what types of reticles you prefer.
In our opinion, you should take a look at the above optics more carefully before making your final decision. See which one will go well with your current rifle build and which one will best complement your hunting experience. That way, you'll have an optic that feels perfect to use the first time you take it into the field.