Every shooter needs to be able to get the target with great precision and speed at all times and under various conditions. During a shooting range, a great deal of time is needed to get the target. However, the reality is, everything will move at a faster speed.
With a harsh territory, severe weather conditions, and increasing levels of anxiety, even an experienced marksman will not always have it easy. The answer to these kinds of problems is looking for and getting the best red dot sight that will be a bang for the buck.
Read reviews or save and compare it against similar products to know all the advantages.
Must Read Our Article: Tworld Tactical Rifle Scope 2.5-10×40 Review
It also features high quality aircraft grade aluminum alloy, water resistant, shock-proof, and fog proof. It is also ideal for military law enforcement hunters. RioRand also includes an integral weaver-picatinny rail base suitable for an easy mount on guns with a weaver-picatinny rail. It boasts unlimited eye relief with multi-coated lens.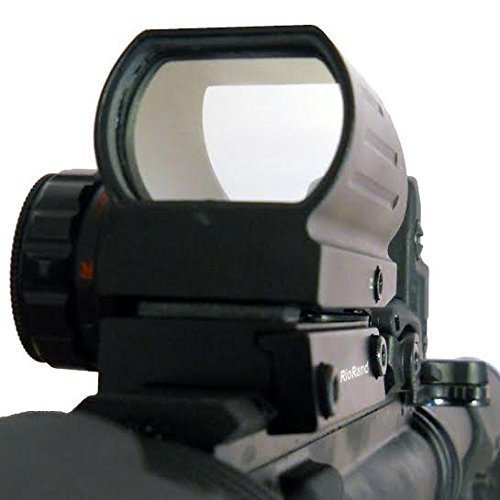 Product Features:
It has a corrected parallax and provides limitless eye relief.
It is very lightweight and is waterproof and shock-proof.
low power consumption for long battery longevity.
It includes a windage and elevation click adjustments and locking screw.
It has four multi-reticle patterns or four different sizes of Variable Dot installed.
Features a built-in mount or integrated rail for stand bases. Re-zero is unnecessary when remounting the dismounted sight.
It has a 33mm lens reflex aperture tubeless design with and provides a wide perspective that is perfect for targeting moving objects or rapid firing other than normal shooting.
Specification:
Magnification: 1.0x
Object Aperture: 1.3 inches
Field of View at 100m: 15.8m
Parallax at 80 yards: 1 MOA
Output: 1mw
Scope Sight Battery: 1 * CR2032 3V (not included)
Housing Size: about 3.2 in. x 2.1in. x 2in.
Tube Diameter: 1.3 inches
Eye Relief (mm): Unlimited
Elevation Range: ± 30MOA
Windage Range: ± 30MOA
Weight (net): est. 160g or 5.6oz
Material: Aircraft Grade Aluminum Alloy
Color: Anodized Matte Black
The red dot sight is usually mistaken for a laser. In any case, there is a major difference between both tools. For one, a laser sight will radiate light on the target; whereas, the red dot sight will produce a red dot on the glass of the sight. A red dot sight is extremely precise and inconspicuous to potential enemies compare to laser sights.
Must Read Our Article::Things to Know About The Burris Fastfire III, 3 MOA Sight
Final Verdict:
The RioRand Generic Holographic Red and Green Dot Sight Tactical Reflex 3 Different Reticles is flawless for shooting longer range targets or even shotguns. The red dot sights can supplant traditional iron sights. It also offers a crystal clear view of one's target. It is affordably priced with not much price difference compared to similar products. In the end, it all boils down to the features of each product.