If you want to enjoy exciting hunting experience, you must have an attractive rifle scope. It is a perfect blend of the best scope along with an appropriate rifle amusing the users with perfect shooting experience. So being one such person this UTG Scope review is perfect for you in every manner.
Being a hunter, you will be amused with the features and functionalities offered by UTG 30mm SWAT 3-12X44 Compact IE Scope with AO Mil-dot, 36 Colors EZ-TAP. This scope is pretty much popular among the hunters for all the convenience that it causes for the users.
Let us begin this UTG Scope review with technological features of UTG scope. It has been well equipped with the most innovative features ensuring the exciting hunting experience. This scope has been designed to offer several shooting solutions such as predator hunting, tactical hunting and hunting big game etc.
Must Read Our Article::5 Best Spotting Scopes
1.UTG Scope Review to Know More About This UTG Scope: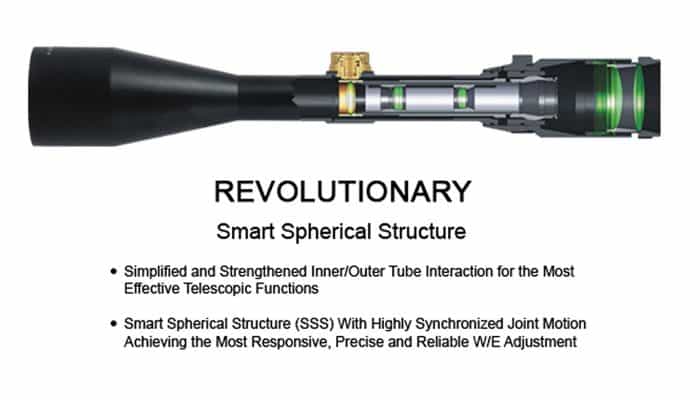 Features:
This is one of the most updated and modern scopes with highly advanced features. It ensures shooting easier and effective. Underlined are several features that should be known:
Zero Locking and Zero Resting Target Turrets:
These are the features that make UTG standout from its rivals. These features are used for the field adjustments and ensure accuracy in target aiming. In addition it also has Side Wheel Adjustable Turret offering parallax range that is between 10 yards to infinity.
Illumination Enhancing (IE) Reticle:
Next feature to be discussed in this UTG Scope review is the illumination enhancing reticle. It supports the multi-color modes and personalized illumination. The spectrum has 36 colors which actually complement all the environmental needs and several preferences.
This scope can be used against the Bushnell AR Optics FFP Iluminate AR-223 as it delivers perfectly in low light too.
Emerald Coated Optics:
The UTG scope has high quality optics offered with multi colored lenses. These are complemented with the glare free angled sunshade. Also these sunshades are well equipped with the lens caps that can be opened with a flip.
Must Read Our Article::Things to Know About The Burris Fastfire III, 3 MOA Sight
Nonstop illumination:
Another innovative circuit and unique housing design offered by UTG scope is the nonstop illumination. Users enjoy the nonstop illumination even with the heavy recoil. It is because the scope has been designed to function in an intuitive manner.
2. Pros and Cons of The UTG Scope: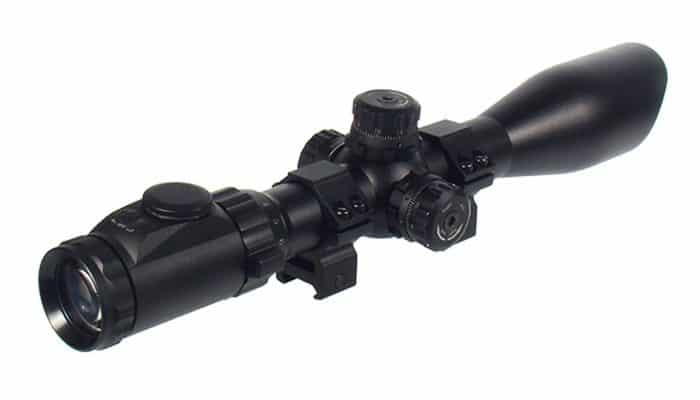 Next part in this UTG Scope review is to have a look at the pros and cons of the UTG scope:
Pros:
It is pretty much affordable and yet loaded with multiple features
It has been built on a platform of true strength.
This scope guarantees durability.
It is fog, water and shockproof. These features ensure continuous performance while shooting. You will be in a position to hit the target easily regardless of extreme weather conditions.
The parallax is adjustable in order to ensure the accurate shots regardless of the target distance
You will not lose any preset settings with the help of locking feature. This will not only save you time but will also enable you to focus on the targets rather than adjusting the scope again and again.
It is a user friendly scope and hence even the beginners can learn to use it in no time
UTG has versatile reticle appropriate for all kinds of situations. It is because it can be adjusted for long as well as short ranged shooting experience
It is consistent and precise and hence can be used even by the beginners even when they have no hunting skills
Cons:
Next in line, UTG Scope review talks about cons of the UTG scope:
It is heavy in weight even though it has a compact design
Side knob of the scope is tight and hence it can be challenge to tune it
Key benefits of UTG Scope: Key benefits of having UTG scope include the following:
It enjoy a high quality built
The lenses have been designed to offer clear visibility
It has high image clarity, quality finishing, and functionality to be used by the users
Conclusion:
Considering all the facts and figures mentioned in this UTG Scope review, we can say that UTG 30mm SWAT 3-12X44 is an effective rifle scope with exciting features and still it is affordable. This means that even people with limited budget can get access to a high quality rifle scope like this. It is indeed one of the latest technology features and functions. You will not regret investing in to this rifle scope in any manner.
Must Read Our Article::Dagger Defense Red Dot Reflex Sight For AR15, AK47, M4- Review